Chance the Rapper, Jeremih 'Merry Christmas Lil' Mama': Download and streaming options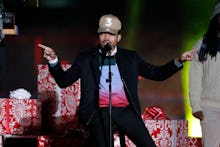 While East Coast children were sleeping, tucked snug in their beds, Chance the Rapper and singer Jeremih shimmied down their chimneys early Thursday and delivered the ultimate Christmas gift: a new mixtape Merry Christmas Lil' Mama, just in time for the holiday.
The surprise hip-hop Christmas collaboration between the two Chicago-based artists features a number of other Chi-town locals, including frequent Chance collaborator Noname on "The Tragedy," comedian Hannibal Buress on "All the Way," and rapper Lud Foe on "I Shoulda Left You." Grammy-nominated Chance the Rapper tweeted out the link to Merry Christmas Lil' Mama around 2:42 a.m. Eastern. It's currently available to stream free online at SoundCloud. 
The mixtape blends Chance's formula of hip-hop, gospel and soul with Jeremih's catchy autotuned crooning to tell a Christmas story set in their native Chi-Town.
It's clear the mixtape was recorded fairly recently as Chance the Rapper reacts to the seven Grammy nominations he received in early December, including best new artist and best rap album for his streaming-only mixtape Coloring Book. On "Chi-Town Christmas" Chance raps: 
Jeremih on the beat
It's a history-making moment, one that deserves to be celebrated. It stems from a previous victory that took place earlier this year, when the rapper successfully advocated for free albums to be considered by the Grammy voting committee. The nods that have followed may result in a possible sweep of the hip-hop categories next year.
In the meantime, while we wait for the Grammys to make up their mind, Chance and Jeremih are in the holiday spirit and want us to enjoy it too with this free gift of music. Listen at SoundCloud here and check out the full track list below:
1. All the Way