Was Heidi Klum's fall in "Santa Baby" Sal Valentinetti performance real? Watch the video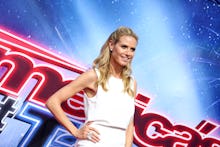 If Heidi Klum's fall during this choreographed duet was unplanned, then the 43-year-old supermodel has achieved what most never thought possible — she tumbled somewhat gracefully on national television. 
On Monday night's America's Got Talent Holiday Spectacular, crooning contestant Sal Valentinetti opened the ill-fated "Santa Baby" duet while Klum descended to the stage on a giant candy cane.
The first minute of the performance was met with cheers from the audience and surprise approval from judges Simon Cowell, Mel B and Howie Mandel. However, that all changed when Valentinetti put a little too much muscle into a choreographed spin and hurled Klum across the winter-white stage like a beautiful, blonde dreidel.
After falling on her back, heels sky high, Klum didn't miss a single beat and resumed the performance as though nothing had happened. After the unfortunate turn of events, judge Mel B supported Klum by completely suppressing her shock. And the tumble didn't stop Simon Cowell from giving a standing ovation. 
Was it real? Was it fake? We may never know, but Klum definitely rocked it.