Muslim woman Asma Jama forgives the woman who attacked her for speaking Swahili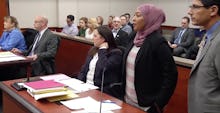 Sometimes there's nothing more powerful than forgiving those who have wronged you.
In a hearing on Tuesday, Asma Jama forgave the white woman who attacked her at an Applebee's in Coon Rapids, Minnesota. Jama, a hijab-wearing Muslim Somali, turned to Jodie Burchard-Risch, 44, and with the help of Islam, said she was able to forgive her.
"My religion teaches me to forgive so I can get on with my life," Jama said, according to BuzzFeed News. "If I hold a grudge, if I hold the hate you hold towards me against you, it's not going to serve me well. So, in front of everybody here, I do forgive you and I hope that you choose love over hate."
In October 2015, Jama was eating dinner with family and friends at Applebee's. Jama, who is fluent in three languages, spoke in Swahili with her dinner companions. This prompted Burchard-Risch to accost Jama, telling her to speak English and go back to her country.
In response to Burchard-Risch's statements, Jama told her that she was a U.S. citizen and can speak English fluently. Burchard-Risch then smashed a glass mug onto Jama's face and ran away from the restaurant. 
According to Minnesota Public Radio, Jama received 17 stitches for the injuries associated with the attack. After a legal battle, Jama finally received closure: Burchard-Risch pled guilty to assault and was sentenced to six months in prison with up to five years of probation. 
"I am an American citizen and I would fight for it today as much as you would," Jama said. "So I just want you to understand you hit somebody you didn't know anything about.
"So I hope you learn at the end of all this we are all the same, there's no difference between me and you."
Watch Jama forgive her attacker below:
Here are Jama's remark in full:
What happened to me on that day is unacceptable, it shouldn't happen to anybody else. I used to be a carefree person and now I can't go anywhere by myself. It really impacted and changed my life for the good, and for the bad too. I just wanted to say that I'm happy it's over. It's been a long year.