12 reasons 2016 belonged to Chance the Rapper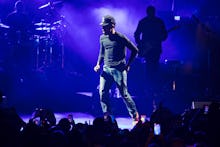 No artist — maybe no human — has brought more joy to the world in 2016 than Chance the Rapper. Right up until the last weeks of the year, he's spread love, shared music and worked to inspire his fans. One of his latest tricks: a surprise Christmas EP alongside Jeremih called Merry Christmas 'Lil Mama Mixtape, released Thursday. It's nine tracks of Chance's hilarious, warm and light trap, talking love, cheer and all the subjects the musician knows best. 
It made this writer pause for a second this morning: Maybe Chance is always making Christmas music; he's just not always talking about reindeer. Either way, Lord knows we needed it.
In a year lit by trash fires, Chance worked diligently to metaphorically install central heating in homes that needed it. He dug through that flaming trash and found cans and bottles to recycle. He helped lay the groundwork for that vital alchemy, turning tragedy into opportunities for growth. These were his brightest moments. 
Spit the best verse on Kanye West's The Life of Pablo
Looking back on Chance's verse off Kanye West's "Ultralight Beam," it feels like a prophecy. They're still the best bars on that beautiful mess of an album. The lines about Chance 3 in particular feel like soothsayer riddles:
He said let's do a good ass job with Chance three
It did go that hard. Fans did tweet out every single part. And rather than selling the album to get the attention of Grammy voters, he made the Grammys change its standards to recognize him.
Blame Chance for "Waves"
After hearing Chance's Life of Pablo vocals echoing through Madison Square Garden during West's Yeezy season-three listening party, there was a bit of delay before fans could stream it through their home speakers. "Blame Chance," as Kanye West explained, in the above recreation of the album cover. Chance insisted West put "Waves," a song Chance co-wrote, back into the album's track list. Fans will be eternally grateful, though Chance's original version of the song might still be better.
Coloring Book
Chance 3 changed the game. There aren't really that many more ways to say it. The hip-hop gospel it delivered, arrayed in tie-dye and filled with psychedelic visions of glory, gave fans the most expansive look at his genius to date. It made God seem down with the Movement. It gave the praise song a new hip-hop flair. It gave Lil Yachty a chance to speak his truth in front of people who may never have otherwise given him the time of day. It made living in the time of Chance seem a blessing all unto itself.
He's on first-name basis with Obama
Running out his Coloring Book victory lap, Chance just happened to mention in a GQ profile that he and "Barack" — aka the current president of the United States — are on a first-name basis:
"There was a big meeting [in April] about My Brother's Keeper and criminal-justice reform, and a whole bunch of artists and celebrities were there. And at the end, everybody takes a group photo, and he's signing stuff. And he keeps pushing me to the back, and I'm like, 'I don't understand why he won't sign my shit.' And he makes me wait till the end, and then he brings me up to his office, and we had a really good conversation about what I was working on." 
Barack apparently gave him some bum advice that Chance "needed to start selling [his] music." The rapper hasn't quite listened, but still had fond words to share about POTUS.
"He's a good man," Chance said. "Even if he wasn't president, if his ass worked at, like, Red Lobster, he'd be just a good man working at Red Lobster."
Helped send off Muhammad Ali with a special tribute song
In July, Chance the Rapper helped send off one of the numerous legends the world lost this year when he paid tribute to Muhammad Ali during the ESPYs. He debuted a new tribute song, seemingly titled "I Was a Rock." 
Chance sang it into a classic hanging microphone, splicing in some of Ali's most famous quotes to break up the verses: "God don't care nothing about England or America," Ali says in one sample. "As far as wealth / It's all his / He wants to know how do we treat each other." It's a sentiment Chance seems to breathe into all of his work.
Got that Nike money
Parlaying with corporations and playing the publicity game is a necessary evil in music these days, but it's one Chance does impeccably well. In August, Chance appeared in a new Nike ad, but instead of letting the shoes cop all the shine, he used it as an opportunity to debut a new song: "We The People," a seeming tribute to the U.S. Olympic basketball team. The softer, piano-led ballad is different than what we're used to from the zany grown-ass kid, but the style suited the moment perfectly.
Hosted his inaugural Magnificent Coloring Day Festival
Chance the Rapper's Magnificent Coloring Day Festival was a transcendent experience for all who attended. Hosted in the Chicago White Sox's U.S. Cellular Field, the festival was the first of its kind for Chicago's south side, "an area historically excluded from the city's entertainment industry, despite all its contributions to art and culture," as Consequence of Sound's Karen Gwee put it in her review of the show. He brought together Lil Uzi Vert, Alicia Keys, Kanye West and Skrillex for a show that will hopefully become a South Side mainstay.
Created a system to get their music played on the radio
The thing about Chance's independence is there's really no precedent for it in the modern streaming environment. As he's doled out musical innovations, he's had to do the same on the business side. In September, Chance launched Rapper Radio, a campaign to get independent releases played on radio stations. Using the simple website, fans can contact local radio stations via Twitter and ask them to play Chance's music on the airwaves.
Currently, one can only ask for Chance's "No Problem" or "Summer Friends." But he seems set on expanding the program: "It's time to really show ppl what independent music can do," Chance wrote on Twitter. "Let the stations know that we are here and independent music is not going anywhere."
Got the Grammys to recognize free releases and independent artists
Kanye's best prodigy didn't need to sell Chance 3 to "snatch the Grammy," as Chance phrased it on "Ultra Light Beam" — the Grammys snatched him. After some fervent fan-led petitioning to get free releases considered in the Grammy award categories, the show yielded in June. The Recording Academy will now consider free and streaming-only offerings on the same level as big-budget label releases. And when the nominations came in December, Chance secured seven, including best new artist. 
If he were to win, it would send a powerful message to the rest of the music world: True independence is a viable, if not preferable, way to run a career. 
Led a parade of voters through the streets of Chicago
'Twas the night before Election Day and all through Chicago, all the creatures were stirring — Chance was leading them down to polling stations to vote. Video from the march shows thousands of young people parading through the streets, contributing to a record turnout for early voters in Chicago. 
It truly did "show the younger generation what standing up looks like," as Chance told the crowd, according to Al Jazeera. The march was far and away one of the most unique and energizing actions of the whole election cycle, and even further proof there's just something especially magnetic about Chance the Rapper.
Slayed Saturday Night Live, again
Last December, Chance the Rapper became the first independent artist to perform on Saturday Night Live. This December, as the final guest on SNL's current season, he came back and repeated the trick, performing two tracks off Coloring Book: "Finish Line/Drown" featuring Noname and "Same Drugs" featuring Francis Starlite. 
Few have ever rocked a pair of bright-red overalls with such class or filled that stage with such unmitigated joy.
Saved Christmas
It's hard to think of a better way to close Chance's incredible year — in which he began to literally remake hip-hop in his own image — than with 10 tracks of the rapper and fellow Chicagoan Jeremih singing trap-tinged yuletide carols. They're so irresistibly cheerful, full of that Christmas glee and cheer, they once again prove that few artists had bigger hearts and more to give this year than Chance the Rapper.
Merry Christmas to Lil' Mamas everywhere and to all a safe New Year.