Teen in Nepal dies of suffocation while isolated in "menstruation hut"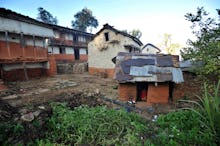 A 15-year-old girl named Roshani Tiruwa died sometime between the night of Dec. 17 and the morning of Dec. 18 in Accham, Nepal. Tiruwa was inside a "menstrual hut," a small structure meant to isolate women and girls on their periods.
According to Nepal newspaper My Republica, authorities believe Tiruwa died of suffocation, since she had lit a fire inside the hut —  known as a chhaupadi goth — to keep warm through the night.
"There was lack of oxygen as she lit fire in the very narrow shed that had no ventilation," Badri Prasad Dhakal, the Achham district superintendent of police, told the outlet.
Tiruwa's father said he last saw his daughter around 6 p.m. when she came to retrieve her dinner and bring it back to the hut. He only began worrying later the following morning when she didn't answer his calls out to her.
"Then we saw her dead body," he told My Republica. "As it was her holiday on Saturday, we thought she had gone to jungle to collect firewood."
Tiruwa's death is only the latest in a line of women who have died while isolated in menstruation sheds. 
In November, 21-year-old Dambara Upadhyay, like Tiruwa, was said to have died in a Chhaupadi shed from lack of oxygen. A Dec. 14 report from My Republica names two other girls — Bhawana Malla, 17, and Sharmila Bhul, 16 — who have died in recent years due a religious mandate which some Hindus follow that says menstruating women be kept away from the rest of society. 
The religion's menstruation taboo is often observed by restricting people on their periods from entering temples or engaging in religious practices. Sometimes, people who are menstruating are required to eat and sleep separate from their families.
Nepal's Supreme Court formally banned the practice of keeping women in menstruation huts in 2005, according to NPR — later, the very village in which Tiruwa lived had been declared "chhaupadi free."
Apsara Kunwar, president of the Women's Rights Forum in Achham, told My Republica that while many families began to put an end to the tradition after the 2005 ruling, the practice still remains widespread in Nepal.
"Women are very insecure in chhaupadi goth," Kunwar told the outlet. "Girls and young women are sexually harassed and sometimes even raped. But fearing backlash from the society and family, most of these cases go unreported."
She questioned: Is it "impossible for the victims to report such cases of abuse to family members because the same family has been punishing them for menstruating?"
Kunwar said that no matter the cultural attitudes and religious mandates underpinning the practice, the government must do everything it can to put a stop to it.
She said, "[The government] must take actions to uproot it and if necessary take legal course for ending such inhuman practice."