ASOS is selling a giant satin "body bow" — because sometimes you're the present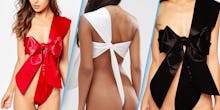 'Tis the season, sure whatever, but admit it: sometimes all you want to do is slip away from family and friends, strip down and wrap an oversized bow around your naked body. What's more luxurious then that?
At least that's the thought process retailer Asos seems to hope customers will go through when they check out the "Unwrap Me" body bow collection by Bluebella — and yes, before you ask, there is a bridal body bow.
What exactly is a body bow? It's a giant satin ribbon that covers the breasts and genitals. Why a body bow? That's a far more difficult question to answer.
Asked to comment on what this is and who the target demo is, Asos offers this statement: "This is a branded product and so was not designed by Asos." 
In other words:
The $20 (£16.00) accessory (?) found viral fame back in August with Hello Giggles calling it "~very interesting~" and Cosmopolitan calling it "so odd it has to be seen to be believed."
Twitter wasn't shy when it came to commentary.
And now, thanks once more to Twitter, the body bow is trending once more.
This isn't the first time Asos has been mocked for questionable designs. In August, Twitter dragged the brand for selling strap-on animal tails. "It is always our priority to know what our customers are loving and ensure we have the right product for that moment," Asos told Mic at the time. 
This holiday season, forget passé presents, and wrap yourself in a satin body bow.