'The Flash' Season 3, Episode 10: Barry tells Iris her future in midseason premiere video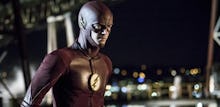 Season three of The Flash has forced Barry Allen to battle his greatest threat yet: Time. While both Doctor Alchemy and Savitar — this season's big bad — have posed tremendous obstacles for the hero, it has been his desire to rectify the past that has caused the most trouble (just take a look at "Flashpoint").
The Flash has been on hiatus for a few weeks now, but will return with season three, episode 10 on Tuesday, Jan. 24. The CW recently released a new promo for the episode, titled "Borrowing Problems From the Future," clearly demonstrating that Barry's battle against time is not over. This time, though, Barry is no longer trying to fix the past, but rather, prevent a certain future. 
In The Flash's fall finale, Barry and Jay Garrick teamed up to defeat Savitar. In doing so, Barry inadvertently traveled to the future, where he witnessed Savitar murder Iris. 
Despite Jay explaining that the future is not set, and all he saw was one possible scenario, Barry was clearly shaken. The episode ended with Barry getting an apartment for him and Iris to share, in an effort to spend as much time with her as he could. 
Can Barry change the future?
Even if Barry takes Jay's comments to heart, it appears he is not going to take any chances. From the looks of the new promo (below), not only will Team Flash try and prevent the future Barry witnessed, but Barry will actually reveal Iris' future to her.
If the above promo is any indication, The Flash is set to return from its hiatus with one hell of an episode. Not only will Barry inform Iris of her possible fate, but with Cisco's help, he will vibe back to the future, likely in an attempt to figure out how to change it. 
It also looks like we will get the first official team-up of Barry Allen's Flash and Wally West's Kid Flash — "Flashpoint" notwithstanding. Despite Barry's initial reluctance to have Wally rush into the field, Iris' safety is obviously important enough that he will need all the help he can get. 
The clip also, in a blink-and-you'll-miss-it moment, showed that Caitlin Snow may once again have trouble controlling her powers. As we know from prior episodes, the more she uses her powers, the harder it is for her to shut them off. Could it be that her innocent choice to give her friends a snowy Christmas ends up leading her back down the Killer Frost path? We may find out in just over a month.
The Flash season three returns on Tuesday, Jan. 24 at 8 p.m. Eastern on the CW. 
Mic has ongoing coverage of The Flash. Please follow our main The Flash hub here.