'Pokémon Go' freezing: What to do if the game keeps crashing after the latest update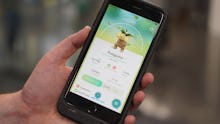 If your Pokémon Go keeps freezing, lagging or bugging out during gym battles, you're not alone. Reports of issues with the game are pouring in on The Silph Road from Pokémon Go players, and the latest update is the suspected culprit.
Android users seem to be better off than iPhone users when it comes to finding solutions for the current problems. Here's everything we know about Pokémon Go's freezing problem right now.
Pokémon Go freezing: Errors keep preventing players from gym battling
Reports are coming in on The Silph Road that Pokémon Go is inexplicably turning itself off. 
"My game keeps closing itself randomly on separate occasions without [any] warning or trigger," writes redditor asquall. "I don't know if this is a new problem or just a long-term problem with the game? It's the worst if I just finish anything with a gym and it decides to peace out."  
Lag is also being reported by some players. In one case, the game's menu froze when the player attempted to scroll through it.
"The game seems unplayable. I cannot play gyms because the game freezes too much,"  writes redditor xarhs7. "I cannot throw a Pokéball properly because while throwing the screen becomes unresponsive and I end up wasting it."
Gym battlers in particular are having issues with lag, and it's preventing them from fighting effectively. 
"If you battle gyms often you'll realize that as of 0.51 the yellow flash is not very reliable," writes redditor travielee. "It'll flash too late some of the time and sometimes not flash at all. It's not a RAM issue because my s7 has over a Gb free."
What to do if Pokémon Go is freezing or crashing
One suggested solution for Android users involves changing your data usage and GPS locator settings. This technique only seems to work for specific models of Android phone that are listed on the Reddit thread explaining this technique.
Another reported potential solution for Android users currently having issues with Pokémon Go is to download the previous APK and thereby roll back to update 0.49.1. However, it seems that many Android users are unable to find any sort of solution whatsoever to the problem.
iPhone users in the comments on several threads are also reporting the same game stability issues. But where Android is an open platform and thus offers some DIY solutions to these issues, the iPhone is a closed system with fewer available options. Pokémon Go players on iPhone who are having these issues might be stuck waiting for another update from Niantic to patch the problems.
Mic reached out to Niantic for comment on the change and will update with a response.
More Pokémon Go news, tips and tricks
If you need something to do while waiting for a new patch for Pokémon Go, you may also want to check out Mic's other Pokémon Go content. Here are guides on how to catch Gen 2 baby Pokémon, the 98 Gen 2 Pokémon that have yet to be added to the game, how to catch Pikachu and his adorable new Christmas hat, our analysis of post-update Chansey and Rhydon, everything you need to know about finding the long-awaited Pokémon Ditto, how to create new PokéStops, how to maximize your chances of catching Pokémon and how PokéStops distribute Pokémon eggs.