Melania Trump friend André Leon Talley: "I've made my choice not to be part of Trumpland"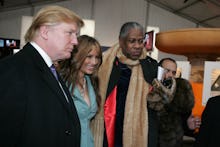 It's not as though they were ever Lucy and Ethel, but there was a time when Melania Trump and André Leon Talley were, in her words, "great friends."
The year was 2005, Trump was being primed for her first Vogue cover, and Talley, then Vogue's editor-at-large, was tasked with helping find the bride a wedding dress (she went with Dior). They attended shows together at Paris Fashion Week. They flew together in Donald's plane. "He's an amazing man," Melania said of Talley in a 2005 interview with Larry King.
The friendship endured through Trump's campaign and election. Talley was looked to as a rare ally (and potential access point) to the insular fashion world many have been keen to keep Melania shut out of in the weeks since her husband's election.
His allegiance seemed unfettered, even as his designer friends including Tom Ford spoke out in opposition to dressing her. On Nov. 30, Talley told the Daily Mail that Melania was "a wonderful person to be with" and she "will be one of the great stars in the administration." As for the administration, Talley was equally optimistic. "I hope there will be a great, great Trump presidency," he said.
Then something changed.
In an interview released Wednesday, Talley told the New York Times' he's singing a different tune. "You make the choice to be in Trumpland or you make the choice to eject yourself from the horror of Trumpland," he said. 
"I've made my choice not to be part of Trumpland."
Talley didn't stop there, seizing the opportunity to sartorially scold the future first lady's sartorial choices. Asked about Melania's style, Talley didn't hold back. 
"Melania, who opted at 3 a.m. for a palazzo jumpsuit, with one arm exposed and a flounce over the other — it seemed to me too Mar-a-Lago, a huge, full-volume jumpsuit," he said. "Trying too hard. And I am so tired of the long hair falling on both sides of her face. She has to upgrade her coiffure."
Talley was far more adulatory in his take on Hillary Clinton's style. "I thought the gray trouser suit designed by Ralph Lauren she wore with the purple satin shell and the lapels matching the blouse was brilliant," he said. "The elegant anthracite gray dry wool actually was slimming."
It's unclear from the profile whether the deterioration of their decadelong friendship is entirely a result of Melania's husband, whom Talley calls "the master of darkness," an unspecified incident or merely the passage of time. Mounting pressure from his fashion contemporaries likely influenced this dramatic shift in loyalty.
Talley is not entirely hopeless about Trumpland. "I wish them the best," he said. "I want suddenly to see that she has incredible style, wake up and say, 'Oh my God, look, isn't that great?' I really do think that there's hope."