Boxing Day 2016: These stores have the best Boxing Day deals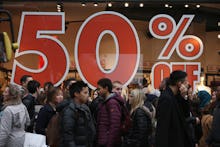 Boxing Day is a time to hang out with loved ones, relax and enjoy sporting events. Or, if you're inclined to brave cold temperatures — and possibly hot tempers — it's also a time to take advantage of some great shopping deals.
Though some establishments observe Boxing Day as a holiday, including banks and federal government offices, most retail stores will remain open on Dec. 26, one of Canada's busiest shopping days. Here are a few great deals you should take advantage of if you go shopping this year. 
(Editor's note: The prices listed below are in Canadian dollars.)
Best Buy's laptop deals
Boxing Day is a great time to upgrade your laptop computer. Best Buy is offering the Surface Pro 4 with Windows 10 and a stylus pen for CA$999. The deal does not include the keyboard, but it does provide CA$280 in savings.
Best Buy is also offering a deal on the HP 15.6 inch touch screen laptop. It's a little more economical, priced at CA$299, a CA$100 discount on the regular retail price.
Boxing Week at Walmart
Walmart, apparently taking advantage of the fact that Boxing Day begins on Monday this year, is offering deals for what it's calling "Boxing Week." Deals are valid from Dec. 26 to Dec. 31. 
The international retail giant is offering Canadian residents significant deals, including RCA 50 inch LED HD TVs for CA$298, a savings of CA$150. Walmart is also offering great deals on PlayStation gaming bundles — buy a PS4 with a dual shock controller and the new NHL 17 game for just CA$299 (ordinarily retailing at around CA$380).
Toys R Us provides 40% savings
For the kid in you that never wanted to grow up, Toys R Us has you covered. And the savings they have may make you feel like a kid waking up on Christmas morning all over again!
That's because they're offering up to 40% off on several items all week long. Save up to 40% on all Star Wars role-playing toys and select Lego toy sets. You can also save 40% on Hasbro board games. 
Toys R Us is also offering up to 30% off remote-controlled and robotic items, including that flying helicopter you were really hoping to get on Christmas morning.
Sears helps with New Year's Resolutions
If you want to get a head start on your New Year's resolutions, Sears is the place to be. A NordicTrack Weslo Treadmill, which is usually priced around CA$900, is on sale for Boxing Day (through Dec. 28) for just under CA$360, 60% savings. 
If you're not really into running, there's also the Pro Form Hybrid Elliptical available at 45% off of the retail price for CA$438 during the Boxing Day sale at Sears.