Girl with autism sings cover of Leonard Cohen's "Hallelujah," stops internet in its tracks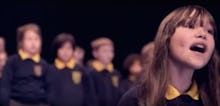 A video of Kayleigh Rogers, a 10-year-old girl with autism, singing a Christmas cover of Leonard Cohen's classic "Hallelujah" has gone viral, leaving many moved by her poignant performance. 
Rogers was the lead singer for the song, backed by her schoolmates in the Killard House School choir in Donaghadee, Northern Ireland.
Nichola Martin, the mother of Blake, one of the children in the choir, posted the video on Facebook Sunday. Since then, it has amassed close to a million views, with more than 7,000 likes at the time of this article's publication. It has been circulated on YouTube, too. 
Rogers, who also has ADHD, reportedly started singing to help with her confidence. 
"She'd be a very quiet little girl, but when she sings, she just opens up," Killard House School headteacher Colin Millar told BBC's Newsbeat. 
"She gets so much confidence from the singing," he added.
Rogers lost her voice and had to withdraw from the Newtownards' First Presbyterian Church Christmas concert, so Millar played the video of her singing instead, which had been recorded a few weeks prior.
Miller explained what happened to Belfast Live: 
She may only be a child but she has an amazing tone to her voice and when I heard her sing "Hallelujah," I can honestly say the hairs stood up on the back of my neck and I had tears in my eyes.
Kansas-based Christian rock band Cloverton released the Christmas version of Cohen's original 1984 song in 2012. The song rewrite produced heated debate, with some arguing it was a disservice to its Jewish songwriter and his spiritual, religiously transcendental message. 
Rogers' version, however, appears to be receiving unanimous praise. 
She seems equally happy with her own performance. "It was really amazing how many views I got," Rogers told ITV. "I just loved doing it."