The top 10 movie musicals since 'Chicago' won best picture in 2003, ranked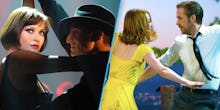 Assuming things go as it seems they will, La La Land, Emma Stone and Ryan Gosling's charm offensive set to whispery tunes, will be the Oscars' next best picture of choice, which would make it the first original movie musical to win the top prize in 57 years. Counting adaptations of stage musicals, however, it would only be the first in 13 years, after Chicago won in 2003.
In those intervening 13 years, there's been a moderate renaissance in the movie musical genre — one that hasn't been consistent enough to garner widespread praise, but has churned out several new additions to the canon. Now, La La Land is poised to take the genre to the next level. But how does it stack up to the movie musicals that have hit theaters since Chicago?
Let's take a look back at the 10 best musicals since Chicago's best picture win. Note, however, that we're excluding animated movies with songs for this list. Some of them are great (Frozen, Moana), but they're a different art form. Judging them against live musicals (which require different skills to produce and stage major numbers) is an uneven battle.
10. Burlesque
Is Burlesque good? Almost certainly not! Any movie that resolves its plot thanks to a contractual clause about air rights is required by law to not be good. But is Burlesque a ton of fun? You bet.
It's got Christina Aguilera in full "Carrie Underwood in The Sound of Music Live" mode, posing and preening through the dialogue scenes just eagerly awaiting the next song she and her infamous growl can dig into. It's got Cher being goddamn Cher, floating around her burlesque club, owning every bit of terrible dialogue she's been given and using her big solo song, "You Haven't Seen the Last of Me," to make every gay watching scream "yaaass" in unison.
Burlesque may be a mess with an embarrassing storyline and three different songs with choruses consisting almost entirely of the word "burlesque," but it's a wonderful mess. Sometimes, you just need a 90-minute dose of Cher bossing Christina Aguilera around a burlesque club in your life.
9. Mamma Mia!
This ABBA musical, about a girl trying to determine which of three men is her father, is the definition of gratuitous schlock. But it is gratuitous schlock that Meryl Streep is deeply committed to, and she is here to sell you every ounce of its absurdity.
That's ultimately what makes the movie work (and made it a box office phenomenon, to boot): This cast is here for it. Pierce Brosnan can't sing if his life depended on it, yet there he is, warbling his way through "S.O.S." Christine Baranski is a campy wonder. And then there's Streep, who's entertained you through an hour and a half of nonsense, making you cry with "The Winner Takes It All."
Yes, La La Land has incredible camera work, inspired dance sequences and emotional gravitas. But does it have Streep, Baranski and Julie Walters singing "Dancing Queen"? No, it does not.
8. Les Misérables
Tom Hooper's adaptation of the Claude-Michel Schönberg and Alain Boublil musical was commercially successful, but received the equivalent of a critical shrug upon release. That's a bit ungenerous: While much of what makes the movie work is the source material, the movie features strong performances. Anne Hathaway is a rightful Oscar winner for her work as Fantine, while Marius remains Eddie Redmayne's best, least-affected performance to date.
What keeps it so low on this list is Hooper's insistence on tight shots that force the actors into inauthentic expressiveness (Hugh Jackman and Amanda Seyfried are worst-served by this), as well as a near-movie-killing performance by Russell Crowe as Javert. It's still Les Misérables, which makes it an enjoyable watch, but it admittedly hasn't aged that well.
7. Pitch Perfect
Its sequel was a disappointment, but the original Pitch Perfect was a goddamn delight. The a cappella musical came along at just the right time, right as the accompaniment-free style was peaking and before it became a signal of obnoxiousness for many.
The subsequent inescapability of Anna Kendrick's "Cups" song makes it hard to remember, but in the film, watching a young artist create music with just a piece of plastic and her own two hands was mesmerizing and charming in equal measure. It's not a traditional musical per se, since all the numbers take place within the realm of the universe, but a scene like the "Cups" number is a potent reminder of exactly how ingenuity and creativity can make movie musicals great.
6. The Last Five Years
Filming Jason Robert Brown's innovative musical, which tells one love story from beginning to end and end to beginning simultaneously, with few scenes of both actors performing together, was never going to be an easy task. Director Richard LaGravenese did the best anyone really could, opening up the scenes a bit while keeping the spirit of the show alive.
What really makes the movie adaptation work, however, is its stars: Anna Kendrick as Cathy and Jeremy Jordan as Jamie. They play both the new lovers' fresh chemistry and the tired partners' exhaustion with aplomb. It's a winning pair, even if the natural flaws of the adaptation keep this from achieving "classic" status.
5. La La Land
Even a La La Land skeptic has to admit its strengths are multitude. Emma Stone is at possibly her career-best here (certainly up there with her work in Easy A), and her audition scene is the single-best sequence in a movie this year. Damien Chazelle's direction is also often inspired.
The best moments, however, only make the movie's failings all the more frustrating. The story is paper-thin and arguably offensive, casting John Legend as the enemy of preserving jazz while Ryan Gosling attempts to save it. There are significant technical gaffes — such as poor sound mixing in the opening number that derails what would otherwise be a total showstopper before the show even starts! 
La La Land is likely going to open up the watershed to more original movie musicals; it'd just be more enjoyable if the film itself were worthy of its likely place in history.
4. Once
All three of John Carney's movie musicals — Once, Begin Again and Sing Street — are lovely in their own ways, but Once will always stand tall in the trilogy for many reasons. It's the rawest, a true love story played out in refreshingly intimate detail. It's got the best music, composed by leads Glen Hansard and Markéta Irglová.
But most of all, it has "Falling Slowly," one of the greatest movie songs of all time. Everything else about Once could be underwhelming, and that beautiful, heart-wrenching, delicate song would still make it worth the watch.
3. Enchanted
Much of Disney's modern intelligence — subverting princess story norms in Frozen and Moana most significantly — can be traced back to Enchanted. The setup is simple: Amy Adams is the animated princess Giselle who falls into the very unanimated New York City by mistake. She finds that the conventions of her world are bizarre and unwelcome in the real world. Yet being a plucky princess, she pushes forward anyway, making her way in the world.
Enchanted winks at the absurdity of Giselle while never making her the joke. Instead, through power of song and charm, she wins the masses over. It's an infinitely enjoyable film (and Adams is truly dazzling) that never leans away from its musical roots — instead it embraces them.
2. Dreamgirls
"Tear down the mountain/ Yell, scream and shout/ You can say what you want/ I'm not walking out," Effie White, played by Jennifer Hudson, belts with abandon in Dreamgirls' centerpiece number, "And I Am Telling You I'm Not Going." In Hudson's hands, the words are a pointed warning: Underestimate her at your own peril. She's got power to spare.
The same could be said of this cinematic adaptation of the Supremes-esque historical fiction that is Dreamgirls, which has become strangely underrated over time. Perhaps its lack of best picture nomination from the Oscars has clouded its quality, but give it another look. Hudson, Eddie Murphy, Anika Noni Rose and even Beyoncé are all in fine form here. The music, including the songs written specifically for the film, are catchy and forceful in equal measure.
It may not have the best reputation, but don't dismiss it out of hand: This one ain't going anywhere.
1. Hairspray
They just don't get any better than Hairspray. Everywhere that the recent live adaptation failed, the film succeeds. Parts of the score were nipped and tucked to their immense benefit; new songs like "The New Girl in Town" served as potent additions. Most significantly, there were several modifications made to the plot (Inez winning Miss Hairspray instead of Tracy, for instance) that helped diminish (but not fully excise) the source material's white savior narrative.
The ensemble is dynamite, with James Marsden's Corny Collins standing out. Nikki Blonsky and Zac Efron made for a perfect Tracy Turnblad and Link Larkin, while Elijah Kelly served scene-stealing style as Seaweed. Even John Travolta made for a surprisingly compelling Edna Turnblad, even if he was never going to stand up next to Harvey Fierstein's iconic Broadway interpretation.
Director Adam Shankman did the best job of any modern musical adaptation of opening up the world of the show into film compellingly. The dance scenes are well-choreographed and handsomely photographed, and the music maintains a smart fidelity to the source material. But most of all, Hairspray works because it's fun. It is such a blast, from cheesy-but-charming "Good Morning Baltimore" all the way to the sonic delight that is "You Can't Stop the Beat." In a genre that is often either enjoyable to watch or a cinematic accomplishment, Hairspray is both — and, not coincidentally, the most rewatchable movie on this list.