Campi Flegrei Supervolcano 2016: Video, latest updates and the experts on pending eruption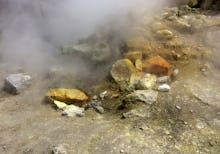 Campi Flegrei, a supervolcano near Naples, Italy, and dormant for close to 500 years, appears to be reawakening, scientists say.
According to a study published Tuesday in the journal Nature Communications, rising magma could cause a release of gas and fluid that may lead to an eruption.
If that happens, as the Washington Post reported, it would spell disaster for the 500,000 people living around it.
Giovanni Chiodini, a volcanologist and the lead author of the study, said while it is impossible to predict with certainty when and if the supervolcano will erupt, the caldera requires immediate attention, according to the Post.
What is Campi Flegrei?
Campi Flegrei, which translates to "burning fields" in Italian, is a caldera 13 kilometers (or approximately eight miles) wide formed by the largest eruption in Europe in 200,000 years, according to the Washington Post. That blast, which occurred 39,000 years ago, may have played a role in the Neanderthals going extinct, some scientists have hypothesized.
The volcano has erupted twice since: in 1198 and 1538.  
In 2012, Italian authorities raised the alert level from green to yellow due to volcanic uplift, the Guardian reported, and ground deformation and seismic activity have recently increased.
What are the experts saying?
According to the researchers, similar ground deformation and seismic activity occurred before two other active volcanoes, in Papua New Guinea and the Galapagos, erupted, the Guardian reported.
But, Chiodini told the Post, "volcanology is not a precise science," and the researcher's observations could indicate potential eruption or the "finish of the volcanic unrest."