Obama administration kills program Trump could use to register Muslim, Arab immigrants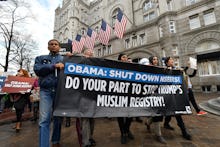 On Thursday, the Obama administration officially ended the National Security Entry-Exit Registration System, a program designed with the intent of tracking Muslim and Arab immigrants to the United States following the Sept. 11, 2001, terror attacks. 
NSEERS hasn't been in use since 2011, when the Obama administration suspended the program indefinitely, but only by vacating all the countries-of-origin from the registry, not actually striking the program.
By completely dismantling NSEERS, rather than simply suspending it, the Obama administration is sending a signal to President-elect Donald Trump that they don't want to be tied to any of the incoming administration's possible tracking or targeting of Muslim immigrants — something Trump campaigned heavily on during his race for the White House.
Opponents of NSEERS, including the American Civil Liberties Union, had campaigned to get the Obama administration to fully dismantle the program before Trump took office.
NSEERS opponents said the program did not prevent any terror attacks, and instead targeted and led to the unfair deportation of Muslims and Arabs in the United States.
"Although NSEERS was conceived as a program to prevent terrorist attacks, among the tens of thousands of people forced to register, the government did not achieve a single terrorism-related conviction," the ACLU wrote in a May 2011 blog post, when NSEERS was initially suspended. "NSEERS proved completely ineffective as a counterterrorism tool while failing to give proper notice to many of its targets and often violating their right to counsel. This led to the deportations of thousands of men and boys from Arab- and Muslim-majority countries for civil immigration violations that were frequently based simply on a failure to understand NSEERS' arcane rules."
Trump, for his part, has met with the one of NSEERS' authors, Kansas Secretary of State Kris Kobach, reportedly for a possible job in his administration. 
When Kobach met with Trump in late November about a Department of Homeland Security job, he was conspicuously carrying a plan for the department that photographers were able to capture. The first agenda item: "Update and reintroduce the NSEERS screening and tracking system."
During his campaign, Trump called for a "total and complete shutdown" of Muslims immigrating to the United States. The statement disappeared from Trump's website shortly after the election, only to quickly reappear.
Trump himself hasn't backed away from that idea, telling reporters who asked whether he is still considering both a Muslim registry and Muslim immigration ban, "You know my plans."
Trump's team, however, says the ban won't be based on religion but rather whether someone comes from regions of the world where Islamist extremism exists, a broad definition.