Sling TV Reviews 2016: Here's what the critics are saying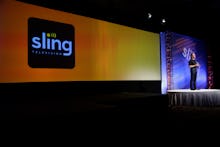 Sling TV offers yet another option for households looking to cut the cord and kill their cable subscriptions. It allows subscribers to watch a number of live television channels and their on-demand content via the internet, no cable or satellite required. Essentially, it's the Netflix of live TV. And, in many cases, it's cheaper than standard cable without the accountability of a contract, which means no cancellation fees. Sounds pretty convenient, right? But does it actually hold up in practice?
Here's what the critics are saying about Sling TV:
CNET gives the service a solid three and a half stars. Writer David Katzmaier is a fan of internet broadcasting that comes at a cheaper price with no commitment. Impressively, he found Sling TV's video quality nearly indistinguishable from standard cable, and praises the service's accessibility on a wide array of devices like Roku, Amazon Fire TV, Android, iOS, Macs and PCs. Unfortunately, he also pointed out some glaring drawbacks. Sling offers fewer channels, limited on-demand options and no pause, rewind or fast-forward function. The verdict? "Sling TV's bargain price and freedom from contracts make it well worth a test-drive for prospective cord-cutters or 'cord-nevers' who can live with its stripped-down selection of live TV channels," Katzmaier wrote. 
TechRadar rates Sling the same amount of stars as CNET does, though its reasoning slightly differs. Just like CNET, TechRadar writer Nick Pino appreciates Sling's ability to stream without setup, equipment or contracts. This review's main criticism, though, is performance issues on some devices and an unhelpful search function. "Sling TV lays the foundation for a dream service for cord cutters, but it can be hindered by poor performance on certain for those without a solid internet connection," Pino wrote.  
GottaBeMobile doesn't offer an exact score for Sling, but its review is mostly positive. There's no DVR function and no, it doesn't have as many options as traditional cable. But the review acknowledged that for the price, Sling is pretty solid deal. "The bottom line though, is Sling TV delivers just enough to make it absolutely worth $20 a month," Cory Gunther wrote. "Sling TV has a great foundation, room to grow and improve, and is the first step to taking control back of TV and loosening the grip cable providers have over everyone."