Android Nougat: How to download the latest version for Galaxy S7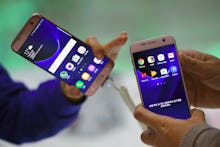 Samsung smartphone owners looking to get their hands on the latest Android Nougat operating system will have to wait for Samsung to roll out the update if they're not part of the Galaxy Beta Program.
In November, Samsung rolled out the Nougat beta for users living in the United States, United Kingdom and South Korea with active Samsung Accounts and either the Galaxy Beta Program app or the Samsung Members app. Access to the beta operating system is currently closed, but those who are already part of the Galaxy Beta program can receive new updates.
At the time of the announcement in November, Samsung was rolling out Android Nougat 7.0. But since then, Google has released a new update for the seventh version of the Android operating system. On Dec. 5, Google unveiled Android 7.1.1 — an update to the original operating system that "brings many of the cool features of Pixel to everyone."
In a Dec. 5 blog post, Google revealed which devices would be first to receive Android 7.1.1: "Today, and over the next several weeks, the Nexus 6, Nexus 5X, Nexus 6P, Nexus 9, Pixel, Pixel XL, Nexus Player, Pixel C and General Mobile 4G (Android One) will get an over the air (OTA) software update to Android 7.1.1 Nougat," Google wrote.
Google also noted that "any devices enrolled in the Android Beta Program will also receive this final version." This suggests that existing members of Samsung's Galaxy Beta Program will receive the Android 7.1.1 by staying on top of available updates within the program.
For those not enrolled in the Galaxy Beta Program, the update could be arriving sooner than anticipated. Samsung is reportedly going to unveil the update on its flagship devices in the weeks to come. A post on the XDA developers forum indicates that the South Korean company will be directly updating to Android 7.1.1 for certain devices instead of offering the Android 7.0 update first.
That said, the Android 7.1.1 update may not be available for all regions. According to a report from GSM Arena, a Vodafone representative from Australia has revealed that Android 7.0 will be rolled out in the country for the Samsung Galaxy S7 and S7 edge.