8 books to read for the 8 nights of Hanukkah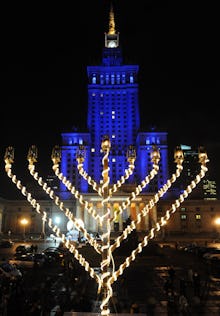 Since Hanukkah falls according to the Jewish calendar, which is Lunar rather than Gregorian, the holiday only occasionally overlaps with Christmas. Though this year, for the first time since 1978, Christmas Eve and the first day of Hanukkah will both be on December 24. 
As we know, Hanukkah lasts not one night, but eight. As Adam Sandler sings in his "Chanukah Song." ("Instead of one day of presents we get eight crazy nights!") This year, those "eight crazy nights" will be from sundown Dec. 24 to Jan. 1. 
If you are looking to teach your children about Hanukkah, or maybe learn a little yourself, here are eight books to read for the eight nights of Hanukkah. 
Written by Maida Silverman, Festival of Lights: The Story of Hanukkah is best read on the first night. The book tells of the first Hanukkah after Judah and the Maccabees' victory over King Antiochus IV. The book also includes a how-to guide for making your own dreidel. The story is perfect to kick off the holiday.
Written by Margaret Moorman, Light The Lights! is perfect for the second night of Hanukkah (which is also Christmas Day this year) and interfaith families. The book tells the story of Emma and her family, who each year celebrate both Christmas and Hanukkah. With modern families coming in all shapes and sizes, this book is great for children of multiple religions. 
Written by Eric Kimmel, Hershel and the Hanukkah Goblins is a Hanukkah classic if ever there was one. Loosely based on Hershel of Ostropol, Hershel and the Hanukkah Goblins tells of a town riddled with goblins, preventing the locals from celebrating the holiday — that is until Hershel comes to save the day. 
Written by Naomi Howland, Latkes, Latkes, Good to Eat: A Chanukah Story is best enjoyed by young children. In the story, Sadie is given a magic frying pan by an old woman that can be used to cook delicious latkes. The book is a fun read for youngsters, but beware, you will likely be starving afterwards. This story is best enjoyed with some latkes on hand. 
Written by Richard Simon and Tanya Simon, winner of the 2015 National Jewish Book Award for children's literature Oskar and the Eight Blessings tells the story of a young boy who traveled to New York City in order to escape Kristallnacht. While walking to his new home, Oskar encounters the kindness of many New York residents.  
Written by Sylvia A. Rouss, Sammy Spider's First Hanukkah has everything you need in a good children's book, including a talking spider, of course. The story follows Sammy Spider who, along with his mother, witnesses the Shapiro family celebrating Hanukkah. The book is just one of several Sammy Spider books written by Rouss. 
Written by Natasha Wing, and part of the The Night Before series of books, The Night Before Hanukkah offers a modern take on the holiday in the same vein as the classic Christmas poem, "A Visit From St. Nicolas." The book is an easy read for children and gives those of Jewish faith a classic rhyme of their own for the holidays. 
Written by Audrey Penn, The Miracle Jar tells of a family excited to celebrate Hanukkah. Unfortunately, they have a problem; there is not enough cooking oil. However, after learning the miracle of the oil that burned for eight nights, the children decide to create a Miracle Jar of their own. 
Happy Hannukah!
Since it would be unfair to bring up Adam Sandler's classic song without providing it somewhere in this article, please enjoy below:
Mic has ongoing coverage of Hanukkah. Please follow our main Hanukkah hub here.