'Sense8' Christmas Special Release Time: When can you watch the holiday episode?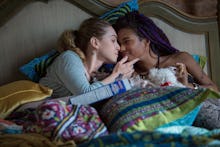 Netflix is quickly establishing itself as a haven for bold sci-fi series. The streaming service released their '80s throwback Stranger Things earlier this year and dropped The OA in mid December. But before these two even existed, the streaming platform gave us the audacious Sense8: a complex, diverse and wild drama from the Wachowski sisters (The Matrix films, Cloud Atlas).  
A second season of the series won't premiere until May, but the Wachowskis fortunately decided to gift their fans with a two-hour-long Christmas special, which will be up on Netflix on Friday, Dec. 23 at 3:01 a.m. Eastern.
First premiering in June of 2015, Sense8 began as a story about eight unique people from around the world who learn that they are "sensates" and can communicate with each other psychically. The series explores their individual journeys, but also their collective effort to understand the root and purpose of their connection. 
Netflix released a description for the special, and despite stating the obvious — that the connection between the eight will grow deeper — little else is revealed:
The journey continues as these eight singular hearts and minds weave in and out of each other's lives finding deeper connections, learning darker, more desperate secrets about one another and struggling to identify with more than just oneself.
Here are some stills from the special. 
Sense8's second season will premiere on Netflix on May 5, 2017. Hopefully the Christmas special can hold us over until then! Netflix subscribers can watch the last season and the special on any Netflix-supported devices. For those without a subscription, you can sign up for a free one-month trial to see if it's all worth it.