'Grey's Anatomy' cast fires back at A&E for 'Generation KKK' reality show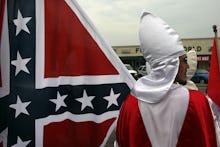 A&E is looking to do as much damage control as possible around its new Ku Klux Klan docuseries Generation KKK before it premieres in January. Many are leaving comments on the network's Facebook and Twitter pages denouncing the show and network for giving the hate group a platform. 
The show's most vocal critic so far has been Grey's Anatomy star Ellen Pompeo, who called the network "desperate" and "pathetic" on Wednesday for picking up the show and urged viewers not to watch the network. The network tweeted back at Pompeo in an effort to provide more understanding about the direction of the show.
A&E also added that it would send Pompeo a copy of the show so she can watch it for herself. 
"A&E condemns the KKK and other hate groups," the network wrote in response to unhappy comments under the Generation KKK promotional videos on Facebook. "We are proud to partner with the ADL to share resources to raise awareness and help combat hate. For more: www.adl.org/generationkkk."
Here are more tweets Pompeo posted Wednesday:
Jesse Williams, another Grey's Anatomy star who has been an outspoken activist against racism, also chimed in. 
Generation KKK is an eight-part series about the modern-day Ku Klux Klan, one of the oldest American hate groups. The series also promises to showcase the work of "anti-hate" activists who are working against the Klan's motives.
A first-look video released by the network this week opens with a trigger warning: "The following program explores how hatred and prejudice are born and bred in our country. It contains intense language and disturbing imagery. Viewer discretion is advised." 
The next scene shows a KKK member sitting on the couch with his daughters. As he dresses them in new KKK hoods, he says he is "giving my girls my legacy." 
Klan membership is rising for the first time in 40 years, which the preview video credits to "indoctrinating families and children." But apparently, some families are being forced to participate and want out of the group.
The Ku Klux Klan was formed in 1865 following the abolishment of slavery and targeted Southern African-Americans. They have organized hate crimes against Jews, immigrants, lesbians and Catholics, according to the Southern Poverty Law Center. The SPLC estimates there are anywhere from 5,000 to 8,000 members of the Klan today.