Berlin Attack: The latest news on the victims of the Christmas market tragedy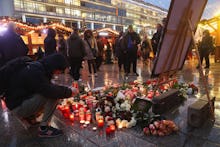 Details are beginning to emerge about the victims of the terrorist attack on a Berlin Christmas market earlier this week.
At least half of the 12 killed were German citizens, the New York Times reported. The attack also left Israeli, Polish and Italian citizens dead. Several have yet to be identified, according to the BBC. 
At least 48 were wounded, including two Americans — one of whom remains hospitalized, a U.S. embassy spokesperson told ABC News.
German police have arrested four people connected with the man suspected of perpetrating the attack, who remains at large, NBC News reported.
Who were the Berlin attack victims?
The Islamic State has claimed responsibility for the Monday truck attack. According to NBC News, it was Germany's deadliest attack since 1980.
According to the Times, the victims included Dalia Elyakim, an Israeli woman visiting Germany with her husband; Fabrizia Di Lorenzo, an Italian woman living in Germany; and Lukasz Urban, a Polish truck driver who was found shot and stabbed in the cab of the truck used to commit the attack. He may have tried to resist the attacker, according to a report by the German tabloid Bild cited in the Guardian.
Poland Prime Minister Beata Szydlo called Urban "the first victim of this heinous act of violence."
Anis Amri, the 23-year-old Tunisian man suspected of carrying out the attack, is the subject of a massive manhunt, and his family is calling on him to surrender to authorities, the BBC reported.
The Christmas market where the attack occurred has reportedly reopened.