There's an 'Episode VIII' rumor involving Luke and space puffins, which needs to happen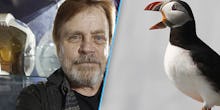 We don't even know the title of the next Star Wars film, Episode VIII, but the rumor mill continues to churn. While set rumors are inherently speculative — and should be taken with a very heavy grain of salt — there's one involving Luke Skywalker and what essentially could amount to space puffins, and god, it needs to be true. 
According to a report from Making Star Wars, the planet that Luke Skywalker resides on, which Rey, played by Daisy Ridley, visits at the end of The Force Awakens, could be inhabited by some intelligent alien creatures. You see, Lucasfilm is using the real-life island of Skellig Michael, off the coast of Ireland, for the planet Ahch-To — and the island is inhabited by puffins. Per the report, Episode VIII could actually include at least one puffin in modified, CGIed form as "protector of the island(s) on Ahch-To." 
The rumor adds that the creature could be a mixture of "the terrifying and the adorable," with razor sharp teeth, akin to some combination of a bird and a Gremlin. It will also apparently be speaking with Luke. Amazingly, this isn't the most absurd Star Wars rumor to come out of the report. 
Part of Rey's Jedi training on Ahch-To could involve her battling a gigantic sea creature, and if she does well, she could curry favor with the CGI-puffin overlord that isn't happy with her presence on the planet. This is a lot to take in, and it's important to remember that this report — despite the fact Making Star Wars has nailed previous rumors — isn't set in stone, and it's likely fans won't receive a definitive answer until Episode VIII's premiere in December 2017. 
However, it's not like Star Wars is a franchise that's deprived of strange alien creatures. That was the appeal of the famous Mos Eisley Cantina scene in A New Hope. We know that Rogue One star Diego Luna is obsessed with one of Star Wars' most iconic creatures, Jabba the Hutt. Maybe a modified, CGI puffin will be the next fan favorite. 
The Force willing, the creature doesn't turn into another Jar Jar Binks, and destroy the franchise. 
Mic has ongoing coverage of both Star Wars and Rogue One. Please follow our main Rogue One and Star Wars hubs.