Trump Inauguration 2017: A list of all the artists who have publicly refused to play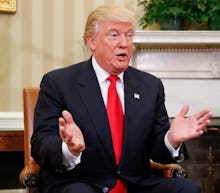 Judging by the extremely messy and disorganized lead-up, Donald Trump's inauguration will likely be a shit show, in every sense of the word. 
As with many things about his presidential campaign, the planning process thus far has been a tangle of misdirection, false starts and headaches for Trump's staff. Just Thursday, the team lost another potential leading act: Céline Dion, after an inside source told the Wrap that Las Vegas hotelier Steve Wynn had tried and failed to secure her for the inauguration. 
Dion is the latest in a long string of celebrities who would seemingly rather watch hell slowly freeze over from its outer circles than celebrate the president-elect's coming inauguration. 
Here's a running list of every celebrity that has publicly declined the offer to perform.
Elton John
John was one of the first artists rumored to be performing, a rumor started by the Trump transition team's very own Anthony Scaramucci. 
"This will be the first American president in U.S. history that enters the White House with a pro-gay-rights stance," Scaramucci told BBC. "Elton John is going to be doing our concert on the mall for the inauguration."
Straight-forward, declarative, there wasn't a single minced word in Scaramucci's statement. There wasn't any in John's publicist Fran Curtis' response in a statement to the New York Times: "Incorrect. He will NOT be performing."
Further thoughts on Trump from Elton John:
"I don't really want my music to be involved in anything to do with an American election campaign. I'm British. I've met Donald Trump, he was very nice to me, it's nothing personal, his political views are his own, mine are very different, I'm not a Republican in a million years. Why not ask Ted fucking Nugent? Or one of those fucking country stars? They'll do it for you."
Garth Brooks
Garth Brooks won't be Donald Trump's country savior either, a source revealed to the Wrap after TMZ cornered the star to ask if he'd been approached. He seemed open at the time: "It's always about serving," he said. "It's what you do." He's been notably apolitical throughout this election year, and as of now, it seems like he'll stay that way through January.
Idina Menzel
Menzel has had her own troubles with patriotic anthems before, and she's definitely not going to try again on Trump's behalf. In a conversation with Vanity Fair, Menzel commented on Trump's difficulty locking down a name to sing, saying: "It's karma, baby." 
She continued, "I mean, look: All the artists in the world got up and tried to get our girl [Hillary Clinton] elected, and it still didn't happen, so we're all still trying to recover from that."
Ice T
After everything that Donald Trump's campaign has said about hip-hop and Black Lives Matter, why he would reach out to Ice T is impossible to know. But the rapper claims they did, or at least joked about what he would do if they did, on Twitter. 
"I just got [called] to perform at the inauguration," he wrote. "I didn't pick up and blocked the number."
John Legend
The forever insightful John Legend offered an explanation for why Trump might be having such a difficult time securing talent for his inauguration in a conversation with BBC.
"Creative people tend to reject bigotry and hate," the R&B crooner, who previously campaigned in Ohio for Hillary Clinton, said. "We tend to be more liberal-minded. When we see somebody that's preaching division and hate and bigotry, it's unlikely he'll get a lot of creative people that want to be associated with him."
Further thoughts on Donald Trump from John Legend:
"I feel like it's dangerous for us to be complacent. It's dangerous for us to think that it couldn't happen to us like it happened to Germany in the '30s and '40s. Trump is saying Hitler-level things in public. The world and America have done some atrocious things in the past, and we could do it again if we had the wrong leadership and if people of conscience don't speak up."
The Chainsmokers
Pop EDM duo The Chainsmokers were only drawn into the inauguration mess after New York Magazine reporter Brian Feldman jokingly tweeted that they were. Their manager later clarified for the Wrap that claim was "false." 
In that piece, Feldman also got a chance to clarify his tweet: "It was a joke about how they're a bad group."
Adam Lambert
Adam Lambert, was exceedingly delicate when publicly refusing to play the inauguration in conversation with BBC.
"I don't think I would take the money on that one," he said. "I don't think I'd be endorsing that. They might struggle."
Considering how much Lambert has campaigned for LGBTQ rights and the track record that Trump's current team has on actively trying to dismantle those rights, the civility is stunning.
David Foster
Canadian musician, producer and songwriter David Foster shared the above Instagram post on Dec. 17. The news outlet in question seems to be Page Six who ran a "scoop" the day before that he was organizing the whole performance. 
The Dixie Chicks
In a conversation with the Wrap, the Dixie Chicks' manager, Simon Renshaw, not only declined that the group would perform, but seemed to answer for the collective industry's refusal, saying: "No one is prepared to normalize what is going on in the country right now."  
He added an additional warning to the artists that do agree to play: "If anyone does do it, I hope that the check that they get is in the nine figures. Because it's probably the last check they're ever going to get."
Mötley Crüe
Mötley Crüe is a bit of special case. According to Vince Neil, they had actually already been invited to be a part of the celebration before the election had been decided. They were going through Secret Service, but after Trump's coup the story changed. "When the Republicans won," Vince Neil, the band's lead singer, said in a video shared by TMZ, "we were uninvited."
"I don't know who's playing Trump's party," he added. "But God bless 'em."
The 1975
Another odd departure from the norm, Matt Healy, lead singer of the rock outfit the 1975, said he'd be happy to play, under a few conditions that Trump's team would likely never accept.
"I'll do it if they give me cash up front," he told BBC. "Then watch what would happen. It would be a riot."
And in terms of cash, he'll need some serious riches changing hands. "Well, he's got gold seatbelts in his plane — so at least a million quid," Healy added.
Zara Larsson
"I would never do it," Swedish pop star Zara Larsson, told BBC during a conversation at the BBC Music Awards. "A lot of artists out there have been very pro-Hillary and anti-Donald. So I would never do it and most other smart people wouldn't do it."
Enough said, really.
George Lopez
Trump's team isn't only looking for singers for January's festivities, they're also targetting comedic talent to help lighten the mood of the day. Comedian George Lopez shared that he'd been approached and that he'd turn down the request in a Jan. 2 tweet. 
Of course, he saved a punchline for the end, adding that after hearing his rejection Trump's team turned around and asked for fellow actor's Eric Estrada's phone number. 
"The desperation has begun," Lopez wrote in an accompanying Instagram, "let's see who #tinyhands ends up with."
Rebecca Ferguson
On Jan. 2, British singer Jennifer Hudson shared that she was approached by Trump's team to sing at the inauguration in a Twitlonger and agreed to do so under one condition — if she could sing the historic protest anthem "Strange Fruit." She wrote:
I've been asked and this is my answer. If you allow me to sing "strange fruit" a song that has huge historical importance, a song that was blacklisted in the United States for being too controversial. A song that speaks to all the disregarded and down trodden black people in the United States. A song that is a reminder of how love is the only thing that will conquer all the hatred in this world, then I will graciously accept your invitation and see you in Washington. 
Andrea Bocelli
At one point in early December, the keynote performance looked like it was going to be Andrea Bocelli and America's Got Talent runner-up Jackie Evancho duetting on the National Mall. Whatever truth once lay behind that announcement, Bocelli has since pulled out, after receiving an excessive amount of flack from his fan base, Page Six reported.
"Bocelli said there was no way he'd take the gig ... he was 'getting too much heat' and he said no," a source told the gossip column. Yet another source offered a slightly different account: "Trump suggested to Bocelli he not participate because of the backlash. It's sad people on the left kept him from performing on a historic day." 
Moby
Electronic music mainstay Moby revealed that Trump's inauguration team had approached him to perform in a Jan. 9 Instagram. He opened the post with long lines of laughter, before offering his terms: "I guess I'd DJ at an inaugural ball if as payment #trump released his tax returns," he wrote. "Also I would probably play Public Enemy and Stockhausen remixes to entertain the Republicans." 
He later shared a longer playlist of all the protest music he would load up his computer with to hypothetically soundtrack the event, featuring some choice Rage Against the Machine and Green Day's "American Idiot."
Further thoughts on Donald Trump from Moby:
This is the america who has now elected a dim-witted, racist, misogynist who has ruined businesses and has no policy proposals other than 'build a wall'. I guess there will be some cold, bitter schadenfreude in spending the next 4 years watching middle america wake up to the fact that Donald Trump is an incompetent con-man.
Charlotte Church
Welsh singer Charlotte Church did little to soften the blow in rejecting Trump's offer to perform at the inauguration. "A simple Internet search would show I think you're a tyrant," she wrote, tagging the president-elect, ending her tweet with a string of poop emojis. 
Considering Church had previously described Trump as a "A Sith death eater.......and an amoeba" in a December 2015 tweet, it's a wonder his team even asked.
Jennifer Holliday
On Friday, Jan. 13 Trump's team announced that Holliday would sing during Trump's Jan. 19 Make America Great Again! Welcome Celebration, alongside 3 Doors Down and Toby Keith. But a day later in a stunning reversal, Holliday pulled out after seeing the pain he agreement to perform was causing her fans. In an open letter shared by the Wrap, she offered a personal apology to LGBT community. 
Holliday wrote that she was "uneducated on the issues that affect every American at this crucial time in history" and apologized "for causing such dismay and heartbreak to my fans ... Please know that I HEAR YOU and I feel your pain. The LGBT Community was mostly responsible for birthing my career and I am deeply indebted to you."
Jan. 15, 2017, 10:56 a.m.: This story has been updated.