Canada just declared high-speed internet access is fundamental to quality of life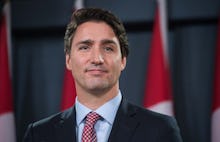 The Canadian government is headed into the new year with a new policy regarding high-speed internet access: All Canadians should be able to access it, and the Canadian Radio-television and Telecommunications Commission is going to try and make it happen.
"Access to broadband Internet service is vital and a basic telecommunication service all Canadians are entitled to receive," CRTC chairman and CEO Jean-Pierre Blais said Wednesday in a press release. The decision was the result, in part, of "consultations with Canadians," the commission announced.
in the press release, Blais said that "Canadians who participated during our process told us that no matter where they live or work in our vast country — whether in a small town in northern Yukon, a rural area of eastern Quebec or in downtown Calgary — everyone needs access to high-quality fixed internet and mobile services. We are doing our part to bring broadband services to rural and remote communities."
The CRTC is creating a fund that will invest CA$750 million over the next five years to help make sure everyone in Canada can access high-speed internet at download speeds of at least 50 megabits per second. 
So what about down here in the United States? In 2015, PBS reported that Americans pay "the most in the world" for broadband access — even though it's slower here than in many other countries.
"For an internet connection of 25 megabits per second, New Yorkers pay about $55 — nearly double that of what residents in London, Seoul and Bucharest, Romania, pay," PBS reported. "And residents in cities such as Hong Kong, Seoul, Tokyo and Paris get connections nearly eight times faster."