'Super Smash Bros' Nintendo Switch Characters: Will the roster expand to boost a new port?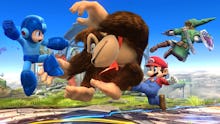 Super Smash Bros. on Nintendo's Switch console hasn't officially been confirmed by the Japanese gaming company. But as the Nintendo Switch trailer has shown us, there will be an emphasis placed on e-sports and competitive gaming. If there's a Nintendo game with a bigger competitive scene than Super Smash Bros., we don't know it.
But Nintendo wouldn't port Super Smash Bros. to the Switch without bringing fans of the game anything new — at least we hope not. The company hasn't announced anything official yet, but here's what we expect them to bring SSB fans who own the Nintendo Switch.
Super Smash Bros. Nintendo Switch Characters: New additions to the roster?
Super Smash Bros. for the Wii U and 3DS was the first game in the series to support downloadable content. New characters could be added to the game as necessary via DLC. In addition, Nintendo devised the fighter ballot, allowing Smash Bros. fans to vote for who they would like to see added to the game. The winner of the fan vote was surprisingly Bayonetta and following the news the game's creators claimed no new characters would be added. Is it possible they might go back on their word?
Adding a new character to a Nintendo Switch version of Super Smash Bros. port would be an easy way to build hype for the game. New playable characters could renew interest in the already popular game. Making the downloadable content with new characters available only on the Nintendo Switch could also help sell some consoles.
Even if Super Smash Bros.'s creators choose to stick to their word we may still see some added costumes to promote recent games. For example, Link might get a new costume to promote the upcoming Legend Of Zelda: Breath Of The Wild.
Super Smash Bros. Nintendo Switch Release Date: New game modes?
Along with new playable characters, Super Smash Bros. for Nintendo Switch could bring new game modes for the console. Super Smash Bros. for Wii U and 3DS is the only game in the series that was released on both portable and home consoles with a few key differences. Nintendo could potentially combine all those features for the Switch, which is set to meld home and on-the-go playing into a single experience.
All this and more could come to the potential Super Smash Bros. Nintendo Switch port, but we can't say for sure until the game is announced. Stay tuned!
Check out more Nintendo Switch games coverage
Can't wait for the Nintendo Switch? Read up on how the console could receive backwards compatibility, what specs the Switch might have and what games you can look forward to. If you're dying to see how Pokémon Sun and Moon would look on the Switch we've got that too.