Will there be a season 3 of 'The Man in the High Castle'?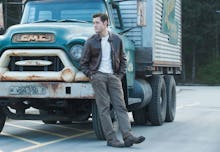 On Dec. 15, Amazon dropped the second season of The Man in the High Castle, the epic series that sees what the world would look like if the Allied powers hadn't won World War II. Adapted from Phillip K. Dick's book, The Man in the High Castle has now released two 10-episode-long seasons, airing a little over a year apart. And now that we're a little removed from the second season, it's difficult not to wonder what's next for the Amazon original series.
The future of The Man in the High Castle
Amazon has yet to confirm a third season. Nevertheless, interest for new episodes runs high from both the cast and some behind-the-scenes faces.
"Yes, we're very much hoping there will be season three," producer Isa Hackett told Bustle. "We haven't even begun getting into what that might look like, obviously, we have to get the green light." 
Luke Kleintank, the actor who plays Joe Blake — the son of a high-ranking Nazi official who finds himself working alongside his father in season two — also appears positive. 
"Third season's looking pretty good," Kleintank told Bustle. As for season two, Kleintank said, "We're showing more of the world and slowly putting in pieces of that. I'm surprised and intrigued to see how all that just opens up a whole new Pandora's box."
Although Amazon hasn't given exact numbers, it revealed that the first season was the most-streamed among its original programming during the first month of its release. If season two fares the same, it'll be strange to see Amazon back away from it.
When is season three?
Unless Amazon and the creators of The Man in the High Castle decide to drastically change things — give us more/fewer episodes, change locations and/or switch up the cast — we can assume, based on how the first two seasons were released, that season three would be released sometime early next winter, right before 2017 comes to a close.