Grayson Allen memes roast the trip-happy Duke player for his white privilege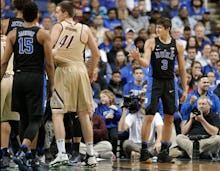 Duke basketball player Grayson Allen tripped an opponent during a game, so he got put in timeout. Then the Blue Devils player threw a tantrum.
The incident occurred Wednesday in a matchup against Elon. During the first half, Allen intentionally stuck out his leg and brought Elon player Steven Santa Ana to floor, drawing a technical foul. Allen was sent to the bench and proceeded to have a very public meltdown.
This isn't Allen's first time committed a dirty play. He tripped two different players in the span of a month back in February. Those incidents, along with this latest development, led Duke head coach Mike Krzyzewski to suspend Allen from the team "indefinitely." 
Allen's actions have drawn comparisons to another infamous white Duke player, Christian Laettner, who was known to play dirty throughout his collegiate career. Fortunately for him, Twitter didn't exist back then, but it sure does now, and the internet quickly made a mockery of Allen's behavior. 
Critics were quick to point out that not only are Allen's trips slimy plays that could risk injury, but also that it took too long for him to be reprimanded for them in the first place.
That sense of privilege was the basis of many of the memes dragging Allen.
And then the final blow:
Ouch. Hopefully Allen spends some time thinking about his actions during the suspension. The internet will keep making memes in the meantime.