'GTA 5 Online' Snow Update: How to enjoy the Christmas holiday Festive Surprise 2016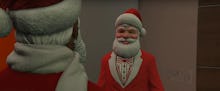 Sometime soon — we never know precisely when — snow will fall upon the state of San Andreas, the city of Los Santos and the realm of chaos that is GTA 5 Online.
While you can use codes to change the weather in GTA 5's single-player campaign, in GTA 5 Online you're stuck with the whimsy of Rockstar Games. So, you'll want to get the most out of the snow in Los Santos, as you won't get it for long.
GTA 5 Online Snow Update: Snowball fights can kill
What's the first impulse you might feel in the real world upon encountering a huge pile of clean snow and seeing your best friend only a few steps ahead, back turned to you?
If "snowball" comes to mind, you'll know precisely how to jump into a GTA 5 Online winter celebration. The thing about snowballs in GTA 5, of course, is they'll eventually kill someone if you keep pummeling a victim with snowballs.
The obvious corollary to deadly snowball fights is the drive-by snowballing, which is so ridiculous as to be fantastic.
GTA 5 Online Snow Update: Winter multiplayer mayhem
Events and updates in GTA 5 Online usually include some sort of themed multiplayer match type. This, of course, means group exercises in murder by snowball when winter arrives in the game.
GTA 5 Online Snow Update: All the goodies in the year's Festive Surprise
Snowball fights and Christmas outfits are easy content for casual GTA Online players to jump into and feel the holiday spirit. GTA Online veterans are also treated to armfuls of Christmas presents during the holidays. 
In 2013, snow fell for the first time in GTA Online during the holiday season, providing fresh, menacing driving conditions for players inclined to travel at very high speeds in supercars. Players also had their first taste of holiday clothes shopping.
The GTA Online Festive Surprise in 2014 added the homing missile launcher, a huge present for GTA Online players sick of being griefed by helicopter gunships. Other big additions included new holiday-themed vehicles and fireworks to celebrate the impending New Year.
The 2015 edition of GTA Online Festive Surprise was light on content, offering mostly new masks and clothing items in addition to the usual snowball-based antics. Hopefully, 2016's Festive Surprise will deliver a few more presents under the tree.
More GTA 5 Online news, tips and tricks
Check out Mic's guide on how to make money fast in GTA Online, all the best cheat codes for GTA 5 and how to make money with the Import/Export update.