'The Last of Us 2' Release Date Spoilers: Ellie returns, but what about Joel?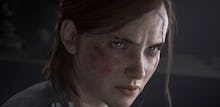 The Last of Us Part 2's release date won't come until at least next year, as game studio Naughty Dog is currently hard at work on the highly anticipated sequel. The company hasn't said much officially, but a series of tweets from Ashley Johnson, who voices Ellie in the series, may have revealed a major new detail.
The Last of Us 2: Ellie returns to the studio
Johnson was back in the motion capture studio earlier this month to work on The Last of Us Part 2 and shared a video to Twitter on Dec. 5 to mark her return.
Then, on Monday, she was back in the studio again, this time wielding a motion capture knife that could play a key role in the game.
Here's another tweet on Monday from The Last of Us writer and co-director Neil Druckmann.
Notice anything similar about these tweets? Troy Baker, who played the protagonist Joel in The Last of Us, is nowhere to be seen. It's possible he's simply busy somewhere nearby off-camera, but there's reason to believe he might not be in The Last of Us Part 2 at all.
The reveal trailer for the new game was our first hint that The Last of Us Part 2 might focus exclusively on Ellie. The video shows her playing the guitar while singing. Joel walks into the room, but he never speaks. That was enough to spark speculation that his character had died in the five years between the first game and the sequel, in which case Ellie was simply imagining his presence.
These tweets could help prove that Joel really is dead. Then again, it's possible that Johnson and Druckmann are simply toying with us.
Watch the trailer for yourself below if you haven't already:
The Last of Us 2: Release date, plot details and everything else we know
Naughty Dog hasn't said when The Last of Us Part 2 will be released yet, but it's expected next year. We also know the game will be a PlayStation exclusive available for the PS4 and PS4 Pro. Plot-wise, the story takes place five years after the end of The Last of Us and will feature Ellie as the primary character this time around, according to Eurogamer.
That's all we know for now, but we may learn more soon. Stay tuned for any new developments on The Last of Us Part 2.