'Gravity Rush 2' Demo: How to play the game now on PS4 for free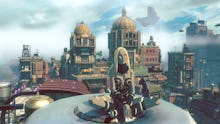 The upcoming Gravity Rush 2 has a newly released demo as of Thursday. Players anxious for the game's official release date on Jan. 20  can try it now on the PlayStation 4.
If you're looking for more great PS4 games to add to your library during the holiday break, you could do worse than the original Gravity Rush. The former PlayStation Vita exclusive got an HD remaster for PS4 earlier this year, bringing it to a wider audience.
It's one of the less recognized PlayStation exclusives, not getting as much attention as The Last of Us or The Last Guardian. Still, the gravity-bending open world adventure is well worth playing. If you don't feel like playing an old game, though, there's good news: The Gravity Rush 2 demo is ready to play. 
Gravity Rush 2 demo out now ahead of release date
According to the folks at the PlayStation Blog, the demo features two paths. One is meant for new players, while the other is customized for Gravity Rush veterans. Since the sequel is a PS4 exclusive, that's the only place to download the demo — sorry, Vita owners.
This is a nice holiday surprise for those who want to get a taste of one of the next upcoming PS4 exclusives.
Gravity Rush 2 Demo: Defy gravity in an open world
Gravity Rush takes place in an open world, like Grand Theft Auto, with the primary difference being, well, everything else about it. You play as Kat, who has the power to manipulate gravity. In the gameplay, this manifests as the ability to aim the camera at any surface and press a button to shift gravity in that direction.
This essentially allows you to fly around the world and mess with your enemies in fun ways. With the touch of a button, you can turn the floor into the ceiling, which the game's enemies aren't especially fond of.
The sequel brings back the original game's unique art style and adds more gravity abilities and a much larger open world than before. It launches on Jan. 20 for PS4.