Michigan police say man did not threaten to set Muslim woman on fire because of her hijab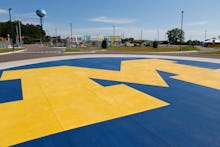 The University of Michigan Division of Public Safety and Security released a statement on Wednesday disproving allegations of an unnamed female Muslim student who claimed she was attacked on campus in the immediate aftermaths of Donald Trump's presidential win. 
According to the Chicago Tribune, the Muslim student reported to Ann Arbor police that a man accosted her on campus and threatened to set her on fire if she didn't take off her hijab.
"Investigators conducted witness interviews and reviewed multiple surveillance videos of the area in question," the police statement, shared by the University of Michigan, read. "During the course of the investigation, numerous inconsistencies in the statements provided by the alleged victim were identified. Following a thorough investigation, detectives have determined the incident in question did not occur." 
Campus police collaborated with the FBI to investigate the allegation.
This incident follows two other fabricated claims of anti-Muslim hate crimes since election night. Yasmin Seweid, a Muslim teenager, was arrested on Dec. 14 when she lied to the New York Police Department about being verbally assaulted and harassed on a New York City subway. According to Pix 11, sources say Seweid initially lied about being attacked to escape consequences from her parents for going out drinking with her friends. Seweid's parents later forced her to shave her head as punishment for disobeying their religious obligations and rules.
On Nov. 10, the Lafayette Police Department in Lafayette, Louisiana, released a statement revealing that another female Muslim student fabricated a story about being attacked and having her hijab ripped off. The student claimed she was attacked by two men who beat her, robbed her and ripped her hijab off. She claimed one of them wore a white "Trump" hat, according to the Washington Post.
Despite these incidents of false reports, anti-Muslim hate crimes are still at their highest rate since Sept. 11, 2001. Researchers at Georgetown University have found correlation between the significant spike in anti-Muslim attacks with President-elect Trump's rhetoric. In December 2015, the month Trump first announced his "temporary" Muslim ban, there were 53 reported anti-Muslim attacks.
The FBI recently reported an uptick of 67% in anti-Muslim hate crimes in 2015. That number could still be underreported considering law enforcement bureaus frequently fail to notify the FBI of reported hate crimes. Victims of anti-Muslim hate crimes often refrain from reporting attacks to the police either out of fear of retaliation or prejudice, or out of distrust in the police system.