Christmas Eve TV Schedule 2016: 37 holiday movies to watch for free on Dec. 24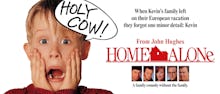 While you anxiously anticipate unwrapping gifts and digging into your stocking stuffers, you could pass the time this Christmas Eve by watching holiday movies. There are dozens of films playing on television that night that will whisk you right into the holiday spirit.
If you don't want to stream movies or order a pay-per-view film, there are plenty of options to choose from on the small screen. We've got you covered with a packed schedule of Christmas flicks airing the day before the big holiday. Here is a list of movies you can watch for free on Christmas Eve. 
(Editor's note: The following start times are all in Eastern time.)
Saturday, Dec. 24
6 a.m. — Christmas at Cartwright's on Hallmark
6 a.m. —  Prancer on AMC
7 a.m. — Jack Frost on Freeform
8 a.m. — Mickey's Once Upon A Christmas on Freeform
8 a.m. —  Family for Christmas on Hallmark
8:30 a.m. — Santa Claus: The Movie on AMC
8:30 a.m. — Call Me Claus on TBS
8:50 a.m. — Unaccompanied Minors on HBO
9:49 a.m. — The Night Before on STARZ
10 a.m. — Christmas Incorporated on Hallmark
10:30 a.m. — Surviving Christmas on TBS
10:30 a.m. — Scrooge on TCM
11 a.m. — A Christmas Carol on AMC
12 p.m. — Once Upon a Sesame Street Christmas on HBO
12 p.m. — A Christmas Melody on Hallmark
12 p.m. — On Strike for Christmas on Lifetime
1 p.m. — Home Alone on HBO
1:30 p.m. — Four Christmases on AMC
2 p.m.  — A Christmas Wedding Date on Lifetime
2 p.m — 12 Gifts of Christmas on Hallmark
2:30 p.m. —  Home Alone 4 on TNT
3 p.m. — A Christmas Story 2 on CMT
3 p.m. — Switchmas on FXM
3:30 p.m. — Deck the Halls on AMC
3:30 p.m. — The Polar Express on Freeform
4 p.m. — Sleigh Bells Ring on Hallmark
4 p.m. — Christmas Icetastrophe on Syfy
4:30 p.m. —  Fred Claus on TNT
5:30 p.m. — Home Alone 2: Lost In New York on AMC
6 p.m. — My Christmas Love on Hallmark
8 p.m. — Every Christmas Has a Story on Hallmark
8 p.m. — The Flight Before Christmas on Lifetime
8 p.m. — Christmas In Connecticut on TCM
8 p.m. — It's a Wonderful Life on NBC
9: p.m. — The Santa Clause 2 on FX
10 p.m. — A Christmas Story on TNT
10:02 p.m. — A Gift Wrapped Christmas on Lifetime