Meloetta 'Pokémon ORAS/XY' Event: Get the legendary in your Pokédex before time is up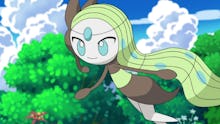 The Meloetta event in Pokémon Omega Ruby and Alpha Sapphire and Pokémon X and Y is quickly coming to a close. The musical legendary Pokémon is available right now via Mystery Gift in North America, Europe and Australia. With the Meloetta event ending on Dec. 24, you'll want to download the Pokémon into your ORAS/XY game ASAP.
Meloetta Event in Pokémon ORAS/XY: How to get it
To get Meloetta in your Pokémon game, fire up your Nintendo 3DS. When you reach the start screen select Mystery Gift. From here you'll want to tap Receive Gift and then Get Via Internet. To properly receive Meloetta, you'll want to be connected to Wi-Fi. You should also you have plenty of battery life so your 3DS system doesn't run out of power mid-transfer, though the entire process only takes around one minute. Unfortunately, this Pokémon event is not supported in the latest Sun and Moon games.
More Pokémon news, updates and more
If you're serious about Pokémon Sun and Moon, you'll want to read up so you can be the best. Check out our guides for picking the right starter, Pokémon Sun and Moon cheats, using a damage calculator, how to catch the new legendary Pokémon, how to get Munchlax and picking between Pokémon Sun and Pokémon Moon.