'Super Mario Run' Friends: How to add friends and play against them in Friendly Run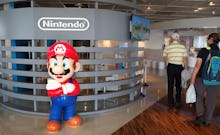 Super Mario Run, the first mobile game from legendary game company Nintendo, is capturing hearts (and critics) with its simple, addictive one-handed gameplay. However, we know there's still one thing you want to know: How do you play against your friends?
Thankfully, the answer is quite simple, though it's not ideal.
How to add friends in Super Mario Run
When you boot up Super Mario Run, you're taken to your Mushroom Kingdom screen, where Toads run around and you can place buildings and such. From there, tap the "Friends" icon in the upper left corner.
This will take you to your friends list. If you're reading this, your friends list is probably empty. The way to fix that is to tap the "Add" button all the way in the lower right corner of the screen.
This will take you to a screen that shows a 12-digit Player ID, which is essentially your online username in Super Mario Run. 
This is an old trick Nintendo used to use in the Wii days that basically prevents you from adding people as friends unless you already know them. It makes sense for kids, but for adults, it's a bit of a hassle.
That means you'll have to do some legwork to add friends in Super Mario Run and actually asking people for their Player ID numbers so you can manually add each other.
Once you've managed to get someone else's Player ID, you're all set. You've added a friend and you can engage them in friendly competition.
More Super Mario Run tips, tricks and updates
If you want to know more about Super Mario Run, walk calmly toward Mic's latest coverage, like our review of the demo, an explanation for why the game isn't free, an advisory about how much data Super Mario Run will really use and a list of Android games to play while you await its Android release.