Donald Trump makes top RNC operative Sean Spicer his White House press secretary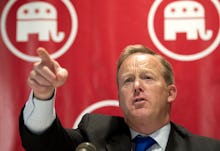 President-elect Donald Trump has picked his White House press secretary: Sean Spicer, the chief strategist and communications director of the Republican National Committee.
Trump dropped the news Thursday morning, also naming campaign spokeswoman Hope Hicks his director of strategic communications, Jason Miller as communications director and Dan Scavino to be director of social media.  
"Sean, Hope, Jason and Dan have been key members of my team during the campaign and transition," Trump said in a statement from Florida, where he's spending Christmas week. 
"I am excited they will be leading the team that will communicate my agenda that will make America great again."
Spicer — who along with Miller has been dealing with the press during the Trump transition — joins his former boss, Reince Priebus, who is moving from RNC chairman to Trump's White House chief of staff.
"Thank you @realDonaldTrump for this amazing honor," tweeted Spicer, who has worked with the RNC since 2011 and previously served as assistant United States trade representative for media and public affairs in the administration of President George W. Bush.
Miller joined Team Trump after working on the campaign of presidential primary rival Ted Cruz of Texas. He also worked communications for former New York Mayor Rudy Giuliani's 2008 GOP primary run.
Some of the picks matched Trump's pattern of moving his tight inner circle — often those with longtime links to him, his family and businesses — into White House positions. Hicks is a former model who previously did public relations work for Trump's daughter, Ivanka. Scavino, who first met the president-elect while working as a teenage golf caddie, is a longtime member of Trump's inner circle known for his social media work on the campaign.
Earlier Thursday, Trump named Kellyanne Conway, one of the chief architects of the Republicans' November upset of Hillary Clinton, counselor to the president.