'Pokémon Go' Apple Watch app released with fewer features than 'Pokémon Go' Plus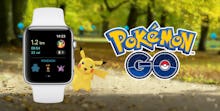 Did you think Pokémon Go for Apple Watch wouldn't be released by the end of 2016? Shame on you.
Niantic announced today that Pokémon Go has indeed been ported to Apple Watch in time for the holidays. The new version of Pokémon Go offers platform-specific additions to the game for Apple Watch users to enjoy. It doesn't offer very much in terms of gameplay, however.
Pokémon Go Apple Watch app: More of a workout routine than a game
The Apple Watch Pokémon Go app takes advantage of the watch's Workout function by registering Pokémon Go play sessions as workouts. All of the steps you take while playing the game can count toward the fitness goals you're tracking with the Apple Watch.
The Apple Watch version can also send you notifications about when eggs are hatched and medals are earned. It can track distance walked to hatch eggs or earn Buddy candy. By and large, though, the Apple Watch port of Pokémon Go is more like a companion app than another version of the game.
Pokémon Go Apple Watch app: You can't actually catch any Pokémon
Niantic's announcement describes several aspects of the Apple Watch version of Pokémon Go that sound very similar to what the Pokémon Go Plus adds to the game (i.e. receiving vibrational warnings about nearby Pokémon and PokéStops, and the ability to collect items from PokéStops automatically by tapping a button).
With Pokémon Go Plus, however, as long as you've already captured the species of Pokémon that the Plus has detected, you can press the button on the Plus and make an attempt at capturing that Pokémon. The Apple Watch version demands that you switch to your iPhone to actually make the capture.
Hopefully, Niantic will add that feature to the new app as a future update, but it's still strange that it wasn't available immediately.
More Pokémon Go news, tips and tricks
If you're excited about the Apple Watch port of Pokémon Go anyway, you may also want to check out Mic's other Pokémon Go content. Here are guides on how to catch Gen 2 baby Pokémon, the 98 Gen 2 Pokémon that have yet to be added to the game, how to catch Pikachu and his adorable new Christmas hat, our analysis of post-update Chansey and Rhydon, everything you need to know about finding the long-awaited Pokémon Ditto, how to create new PokéStops, how to maximize your chances of catching Pokémon and how PokéStops distribute Pokémon eggs.