The best weed grinders and where to buy them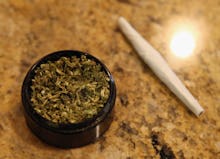 Whether you're packing a vape or rolling a joint, a grinder is essential for efficient weed consumption. Don't settle for the time-consuming monotony of manual weed grinding and check out this list of the best grinders around: 
"Grind in style" is Cali Crusher's slogan. The company labels its product as the "world's first designer grinder." Cali Crushers come in a variety of sharp colors ranging from blue to gold and jet black — and more. But most importantly, each "Homegrown" Cali Crusher grinder is outfitted with "indestructible" radial cut blades that are backed with a lifetime warranty for some serious shredding. Plus the "O.G." Cali Crushers still get the job done with a classic design and more affordable price.
SharpStone has it all — clear tops, hard tops, hand cranks for easy grinding, not to mention the Version 2.0, which boasts razor-sharp diamond cutting blades and a stainless steel pollen screen to catch all that precious kief. Best of all? You likely won't pay more than $40 for one of these grinders. High quality for a reasonable price. 
Considered by some to be the cream of the crop, Space Case grinders are renowned for a reason. Diamond cut teeth, neodimium magnets for total closure, teflon grade O-rings for smooth grinding — you can't really ask for much else. And while the top-of-the-line titanium Space Cases will set you back a pretty penny, there are standard devices or 2-piece models that are available as a cheaper, but still effective alternative. 
This grinder is sleek, elegant and classy — everything you'd expect from a black tie event. Black Tie Grinders are outfitted with 50 diamond-shaped teeth and a micron steel mesh that'll filter out the junk. You also can't forget about the neodymium magnets that ensure the weed remains packed insider the grinder in the first place. For such an exquisite product, Black Ties run awfully cheap at a price usually under $30.