She didn't consent. Now he says he didn't, either.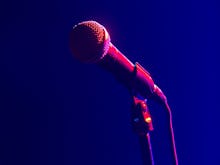 The night of March 22, 2016, is hazy for Irene Fagan Merrow, a 24-year-old comedian who lives in New York City. After performing at the Experiment Comedy Gallery in Brooklyn — an eclectic venue known for welcoming performers from underrepresented groups — she began imbibing with a few friends and fellow comics. Having recently gone through a difficult breakup, she drank heavily. By about 11 p.m., Merrow had blacked out.
When Merrow came to a few hours later, she found herself upstairs at the Experiment with the owner of the venue, Mo Fathelbab. Fathelbab was, as Merrow later put it, "on top of and inside of" her, engaging in penetrative sex.
"I remember being confused and tired, and thinking 'Oh, this is happening,'" Merrow later wrote in a Facebook post. "I don't remember it ending. I have flashes of him walking outside with me and getting into a cab."
Merrow couldn't recall if she had consented to sex. She felt violated but was reluctant to confront Fathelbab. Merrow continued to host a regular show at the Experiment in the ensuing months, despite feeling upset whenever she saw him.
But when news broke in October that prominent New York City comedian Aaron Glaser had been banned from Upright Citizen's Brigade following allegations of sexual assault and harassment, Merrow decided she could no longer perform at Fathelbab's venue and wanted him to know why. She sent him an email, explaining she had blacked out when they had sex and felt she "was taken advantage of in a time of emotional and physical vulnerability."
Fathelbab's response was unexpected. He took "full responsibility for not recognizing how drunk and vulnerable" Merrow was and said he understood why she no longer wanted to perform at the Experiment.
"I remember not wanting to hook up with you at first, but then somehow later I allowed a mix of my own drunken and high state, loneliness and male entitlement to dictate my actions," Fathelbab wrote in an email to Merrow, obtained by Mic. "That was not right of me. That's scummy behavior."
But in a follow-up interview with Mic, Fathelbab said he had "browned out" that night in March, remembering only bits and pieces of his encounter with Merrow. Like Merrow, Fathelbab said he was too intoxicated to consent to sex.
"I, an adult straight man, did not want nor consent to sex," Fathelbab told Mic. "That's a weird thing to say out loud. I wish this was more black and white. "
Fathelbab has been vocal about the need to combat sexism in the comedy scene; he has become known for promoting and supporting female and nonwhite comics. His reputation, combined with his insistence he did not consent to sex with Merrow, raise questions about gender dynamics and consent when both parties are intoxicated. Under New York state law, if both were incapacitated, neither was able to legally consent to sex. 
Fathelbab's support of women and minorities at the Experiment also made him a target for white supremacist trolls who coordinated an effort to get the venue shut down. Whether the alt-right was responsible for a surprise visit from the New York City Fire Department in mid-December is unclear, but inspectors closed the Experiment for safety violations.
When she found out the Experiment had been shut down, however, Merrow worried other comics would rally around Fathelbab to help him reopen the space, as they had previously. After months of keeping the incident with Fathelbab private, Merrow posted about her story on Facebook Dec. 18 to ensure other comics were "safe, and happy, and informed."
As Merrow's account spread through the New York comedy scene, a number of comics have reached out to her and vowed to stop working with Fathelbab. In conversations with Mic, several comedians declined to comment directly on the allegations but expressed support for Merrow. Others have been more outspoken online.
"There's been a lot of turmoil and pain in the New York comedy community recently, specifically a part of the community that I really love," comic Jake Fromm wrote on Facebook. "Locally, we're grappling with the loss of a space that was a home to some of the most progressive, empowering and creative comedy I've seen in New York. It was a space that fostered young comics and new shows. And specifically, a woman in the scene was sexually assaulted by Mo Fathelbab, the man who created and maintained that space." 
The quick response could signal a shift within the community toward believing accusers instead of deriding them — a notable departure from the response to the Glaser allegations, which were followed by victim-blaming defenses of the accused that shook the comedy world.
"People have been a lot more receptive to people speaking out," said Justin Perez, a Brooklyn-based comic who has performed at the Experiment. "In the last four days, I've only seen positive things, I haven't seen anything negative."
The way the comedy community has begun to rally around accusers since the Glaser controversy makes Merrow hopeful. 
"The female comedy community in New York is so strong, and I have felt so much love from them after coming forward," she said. "Unfortunately, we need to have each other's backs. We shouldn't have to, but we do."
Dec. 23, 2016, 5:00 p.m.: After publication of this piece, Merrow contacted Mic to refute Fathelbab's version of events, writing in part: "Anyone could have seen that having sex with me was not okay. He was the club owner, he was in a position of power. He is a tall, large man. I am a small woman. How dare he claim that my assault is his assault too." This story has also been updated to remove a reference to the comedy community's stance on reports of assault. 
Correction: Dec. 23, 2016