10 hangover cures from around the world — just in case your remedy isn't doing the trick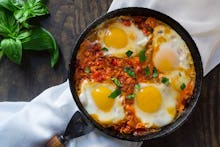 Even though Americans drink more alcohol than anyone else in the world, drinking too much isn't just an American problem. 
Wherever people are drinking, there will always be those drinking too much. And for the drinkers who go overboard, a cure for the painful morning after isn't too far away. Doctors recommend not drinking too much to avoid hangovers altogether (this prescription is sometimes only aspirational) and a scientifically proven hangover cure has yet to actually exist (though interspersing water with sips of booze is a recommended drinking regimen). 
Still, that won't stop us from trying to eat the hangover away. From Korea to Brooklyn,  Mic spoke to several chefs about how people all over the world — from Korea to Brooklyn —  cure their hangovers. 
Japan
"There's a powder called ukon no chikara in Japan," Maiko Kyogoku, owner of of New York's Bessou says. Found in some Japanese supermarkets in the United States, Kyogoku calls the turmeric-based powder "a hangover cure all." 
If you're looking for a more delicious or slurpable cure, Kyogoku thinks that anything soupy does the trick. "I love having a bowl of soba noodles with an umeboshi," she said. "Umeboshi is sour pickled plum. People say that sour plum has great healing qualities. I don't know if that's true, but it always makes me feel better!" The ingredient is Kyogoku's go-to to make a simple hangover meal for herself. 
Korea
Chef Junghyun Park of New York's Atoboy recommends a soup called haejangguk, which literally translates to "hangover soup," for curing hangovers. A popular dish the morning after a big night of drinking in Korea, the soup is made from ox bones, cabbage, fermented soybean paste (doenjang) and a kick of spice from garlic and green chili peppers. 
Australia 
Australians hop to kangaroo meat to soak up all that leftover booze. Chef Rodrigo Nogueira at New York Australian bistro Burke & Wills makes a traditional Australian hangover cure on his brunch menu: The Kangaroo Pie Floater. This catchily named dish consists of 'roo pie served over pea and bacon soup, hearty enough to settle your stomach but easy and soft enough to spoon in your mouth when your head is pounding. 
The Philippines
"When it comes to famous hangover remedies, the Philippines has one of the more famous ones in all of Asia," Armando Litiatco, executive chef at Brooklyn's f.o.b., said via email. "The balut, which is a baby duck embryo boiled and eaten from the shell." This embryo-filled egg naturally has the amino acid cysteine in it, which helps break down toxins from the alcohol left in your system. Embryo-free chicken eggs and duck eggs also have cysteine in them. 
Italy
Espresso. Duh. Unless you're Italian-American like Mario Batali, who swears by beer as his morning after hangover cure. Whatever works, right? Another popular Italian hangover cure: Pasta. Of course, oil- and butter-covered pastas like spaghetti aglio e olio (garlic and oil) and carbonara are popular hangover breakfasts for Italians. "My Italian hangover cure is definitely my spaghetti aglio e olio," Silvia Barban, chef at Brooklyn's LaRina Pastificio & Vino (and current Top Chef season 14 contestant) said via email. "It's greasy and the carbs fill up your stomach!"
Mexico
Menudo, or spicy tripe soup, is a popular hangover cure in Mexico, though some speculate the tradition of eating menudo after a night of drinking is just a reason to hang out with family and friends. The Food Network claims a spicy menudo will bring you back from the dead, and, well, if nothing else works, maybe it's time to break out the stockpot. Or call your mom so she can make it for you. 
Israel
"In Israel, it's all about shakshuka to cure your hangover," Gabriel Israel of New York's Green Fig said via email. The tomato and pepper stew with eggs baked in it or served on top can be made at home or enjoyed at a restaurant, with plenty of toast to soak up the yolks and red sauce. "A cup of coffee and shakshuka will fill your stomach and have you feeling back to normal in no time," Israel said.
Singapore
Many Asian communities, including Singapore and Malaysia, believe that the most effective hangover cure is a soup or broth-based dish, says chef Simpson Wong of New York's Chomp Chomp. Noodles, served with or without broth, are also popular for slurping away the hangover blues. For a tasty day-after drinking meal, Wong recommends Singaporean dishes like prawn mee, which is a bowl of egg noodles with shrimp, spare ribs and a hard boiled egg in a pork and seafood broth, or lamb rendang mee pok, a dry noodle dish he makes in his restaurant with flat, wide wonton noodles and homemade rendang sauce made from ginger, galangal, turmeric, lemongrass, garlic, shallots and chilies, which he tops off with cheddar cheese and scallions.
Greece
"In Greece, two of the most common, albeit slightly odd, remedies are patsas, a soup made from lamb tripe, and mastiha, the [protected designation of origin] mastic resin from the island of Chios," chef Maria Loi, of New York's Loi Estiatorio, said via email. Patsas, a traditional soup made from lamb tripe, lamb shank and sometimes lamb head, will help detoxify the body during digestion thanks to the tripe in the soup. "Mastiha, known for its widespread homeopathic qualities, is best known for working with the gastrointestinal system to alleviate nausea, aid in digestion and help with the overall balance in the body," Loi said. "In Greece, we grind the mastiha into a powder, dissolve it in water, and drink it; this helps rehydrate your body, and balances the acids in your stomach, which makes you feel better!" 
Loi also endorses Greek yogurt, which she makes herself, topped with banana and honey, as a hangover cure, and says her chicken soup with mushy rice "is very soothing after a long night of drinking" to help "rehydrate and nourish your body when you feel like you've had one too many the night before!"
New York City
Chef Dale Talde of Talde Brooklyn said via email that greasy Chinese delivery is the best all-time NYC hangover cure. This New Yorker would also have to agree.