Vin Diesel spent almost an entire interview sexually harassing a reporter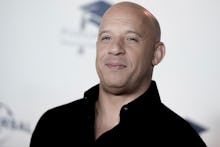 In case 2016 hadn't provided enough examples of powerful men saying what they please to and about women, Vin Diesel is here to offer one more instance of unrepentant male entitlement.
During a press junket for his new film, XXX: Return of Xander Cage, the star made it only five minutes into an interview with Brazilian journalist Carol Moreira before he derailed the conversation to comment on her appearance. 
After answering a handful of Moreira's questions about his career, Diesel began interrupting the reporter to tell her, repeatedly, how beautiful he found her (around the 4:49 mark in the video below). Turning to look at crew members off-camera, the actor pointed at Moreira and gushed about her as if she weren't there. 
"God you're so beautiful," Diesel said, turning to the cameramen. "She's so beautiful, am I right or wrong? How am I supposed to do this interview? Look at this woman." 
As the actor carried on about her looks, Moreira smiled nervously and tried to laugh off his comments. However, in a video of the interview she later uploaded to YouTube the reporter previewed the exchange by explaining she felt "completely uncomfortable" and "did not like" Diesel's behavior, according to Gossip Cop. 
"I was not sure what to do," Moreira said. "I just laughed because it was a very delicate situation. I did not like it. At the time I did not know how to react, but you will see that I was uncomfortable, it was not legal and that he interrupted my work."
In addition to ignoring Moreira's visible discomfort, the actor also seemed to disregard her efforts to get the conversation back on track, preventing her from doing her job. Even when Diesel momentarily returned to the topic at hand, he kept reverting to talking about Moreira's appearance. At the end of the interview (which might be a generous term, considering Diesel's persistent interruptions), the actor crawled over to Moreira on his knees, begging someone to "save" him.  
"She's so fucking beautiful. It's like you can't even do an interview with her," he said. "When did this turn into beautiful world? When did this turn into the most beautiful girl in Brazil? When did this turn into I love you?" 
Gossip Cop reports one source said the star "always has a lot of fun when he does interviews" and such behavior is typical of Diesel's efforts to make interviewers feel "comfortable." Yet Moreira was uncomfortable, and Diesel's intentions don't change what went on between them. There's a name for that type of behavior: It's called "sexual harassment."