Nintendo Switch Release Date, Specs and News: Full HD 1080p games rumored for the device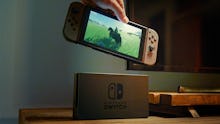 The Nintendo Switch release date of March 2017 means we won't have to wait much longer for official details surrounding the next-gen console. But it does mean that, until then, industry analysts can speculate with reckless abandon. The latest prediction focuses on the quality of the screen built into the company's new console, claiming that the device could sport a higher resolution display than the 720p screen that was previously reported.
Nintendo Switch Release Date Specs: NVIDIA Tegra processor and a 1080p screen?
The details of the Nintendo Switch's hardware specs remain trapped inside the device's casing — aside from the NVIDIA announcement confirming a Tegra processor. However, the latest reports from Wall Street Journal reporter Takashi Mochizuki suggest the portable console will sport a Full HD 1080p display. Lengthwise, the display will boast a WQHD resolution of at least 2,560 pixels, according to Mochizuki. If true, this is an upgrade from the 720p quality display that many had previously expected. 
A 1080p display on the Nintendo Switch would mean sharper visuals when playing on the device. If backwards compatibility with the Wii U comes to the Switch via game downloads, titles could play at their full resolution. 
Nintendo Switch Release Date Specs: Will games support 4K or HDR?
Even if the Switch packs a 1080p display, the console might still bring 4K and HDR gaming to a Nintendo system for the first time. Rumor has it the Switch dock will give the console an extra power boost, potentially making it possible to play games at an even higher resolution at home.
More Nintendo Switch news, rumors and updates
Hungry for more of our Nintendo Switch news? Read up on whether the console will be backwards compatible with games of a previous generation, what current games we want HD remakes of and information about the upcoming presentation event.