iPhone 8 Rumors: New hints that Apple has big plans for the screen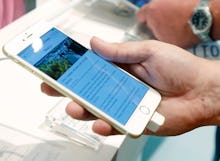 2017 is around the corner, which means the arrival of new iPhones. At least one of the three devices rumored for 2017 is said to feature a radical redesign, and it's looking like that entails a new organic LED screen.
BGR picked up on a report from Asia's DigiTimes detailing the revenue streams of two companies that produce flexible printed circuit boards. The iPhone 7 utilizes these products, but since demand for Apple's latest device is dwindling, the suppliers' profits have begun to sink as well. According to the story's sources, however, these companies are developing FPCB products that "can be incorporated with OLED displays," which Apple is expected to switch to in the second half of 2017 for the next iPhone. 
So, if the report is accurate, the two FPCB-makers are fully aware that they need to adapt to OLED in order to maintain their profit margins. Capitalizing on a next-generation iPhone would certainly be a way to boost revenue. 
What is an OLED screen?
But what exactly makes the OLED screen so "radical" to begin with? The technology wouldn't be "new," per se, as it already exists in devices like televisions. It would offer a number of advantages to the iPhone 8, however. OLED screens are thinner, brighter and consume significantly less battery. And if the rumors are true, Apple's version of OLED will have an edge-to-edge curved display, dramatically increasing screen size and functionality. 
The evidence continues to mount in favor of an OLED iPhone. We'll see how it shakes out in 2017.