Model Philomena Kwao on being black in a makeup chair: "They're almost afraid to touch me"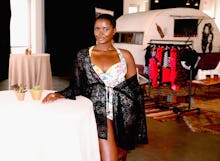 Plus-size model Philomena Kwao, who recently appeared in the Sports Illustrated swimsuit issue and has modeled for brands like Torrid, is on a mission to make sure no one forgets just how hard it is to be a black woman and in need of some quality makeup. 
In a recent video for i-D, Kwao speaks with the model Iman about the struggles of being a black model in a makeup chair, working with a makeup artist who is clearly clueless about how to deal with darker skin. 
"So many makeup artists, they're almost afraid to touch me," Kwao is seen saying in a clip from the interview. 
According to Iman, the state of inclusive makeup hasn't really made much progress in the past 30 years. After Iman tells a story of having to create her own foundation and bring it to sets wherever she went, Kwao chimes in: "I still do the same thing."
"Every black model I know carries her own foundation," Iman says.
In speaking out against the fashion industry's ignorance towards black women and the makeup they really need, Kwao and Iman's voices join women like Leomie Anderson, who tweeted her frustrations in February. 
Nykhor Paul also took to Instagram to air her grievances after yet another photo shoot where the makeup artist was inexperienced with women of color. 
"Why do I have to bring my own makeup to a professional show when all the other white girls don't have to do anything but show up wtf!" she wrote. "Stop apologizing it's insulting and disrespectful to me and my race it doesn't help, seriously! Make an effort at least!"
In addition to speaking out on the difficulties of being a black model, Kwao addresses issues faced by all women who don't have a skin tone regularly seen in media. 
"The darker you are, the more excluded you are," she says. "And this isn't a problem with only black woman. It's a problem Asian women face as well or anyone who has a skin tone that isn't necessarily reflected in mainstream beauty." 
In one scene, Kwao walks along makeup aisles, noting that for certain brands there's 10 shades of beige and three of brown. 
Though the makeup industry is inching towards more inclusivity — with men now repping makeup brands and women of color launching their own makeup lines — there's still lots of work to do. 
You can watch Kwao's entire segment here: