Donald Trump hypocritically laments son's need to step away from ethically dubious charity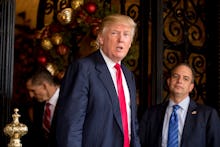 President-elect Donald Trump took to Twitter Friday morning to whine about his son's decision to suspend operations of the Eric Trump Foundation — a charity that's been found to have ethically dubious standards.
"My wonderful son, Eric, will no longer be allowed to raise money for children with cancer because of a possible conflict of interest with my presidency," Trump tweeted. "Isn't this a ridiculous shame? He loves these kids, has raised millions of dollars for them, and now must stop. Wrong answer!"
Trump's comments, however, are incredibly hypocritical, given that he hammered Hillary Clinton for her charitable foundation, which raised nearly $2 billion since its founding to help impoverished people and people with HIV/AIDS around the globe. 
Trump called the Clinton Foundation — which had top ratings from charity watchdogs — "the most corrupt enterprise in political history."
Meanwhile, an Associated Press investigation of Eric Trump's charity found it was ethically questionable.
The Eric Trump Foundation offered donors access to Trump family members in exchange for donations — the same kind of pay-for-play scheme he accused the Clintons of doing. A recent offer to have coffee with his sister, Ivanka Trump, was halted due to pay-for-play concerns. 
The AP's review also found the charity was funneling money it received to "Trump's private golf clubs and to charities linked to the Trumps by corporate, family or philanthropic relationships."
Donald Trump has yet to hold a news conference to address the conflict of interests he and his family may hold when he's inaugurated on Jan. 20.