Christmas weekend movie releases 2016: 7 films to catch in theaters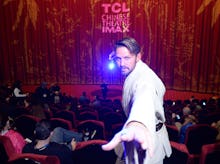 The holiday season is a special time for family, kindness, generosity and self-reflection. But it's also a very special time for moviegoers to catch up on what's in theaters rather than watch A Christmas Story for the hundredth time. 
Between 2016's latest blockbusters, hair-raising thrillers and comedies with an all-star cast, there is plenty to choose from this Christmas weekend.
Why Him?
Master of comedic timing James Franco is joined by Megan Mullally, Bryan Cranston and newcomer Zoey Deutch for a cringeworthy meet-the-parents tale gone horribly awry. When Ned (Cranston) meets his daughter's billionaire boyfriend (Franco), Ned becomes hellbent on breaking up their sudden engagement. Why Him? may not be a creative masterpiece for this seasoned cast, but this festive and funny flick is guaranteed to get more than a few laughs.  
Rogue One
With each Star Wars installment turning out to be better than the last, Rogue One undoubtedly continues on that track as the Rebel Alliance takes on the Death Star. Starring Felicity Jones as Jyn Erso, Rogue One again features a strong female character in a powerful leading role.
Passengers
For fans of Chris Pratt and Jennifer Lawrence, this casting match is nothing short of spectacular. Travelers are on board a spaceship to a new planet when two passengers, Jim [Pratt] and Aurora [Lawrence] wake up 90 years early from their induced hibernation. If the romantic sci-fi film that was promoted in trailers is what you're looking for this weekend, we encourage you to adjust your expectations. Passengers caught moviegoers off-guard with much darker and more disturbing themes than the trailer lets on. Luckily, surprises are in season.
Fences
Originally a 1983 play by August Wilson, the film adaptation of Fences stars Denzel Washington and Viola Davis. The story takes place in 1950s Pittsburgh and focuses on the embittered life of an ordinary man. Washington also directed the film.
The Autopsy of Jane Doe
Though it may not be quite as holiday friendly, it's always healthy to break out of the loop by taking a more macabre route. The Autopsy of Jane Doe, starring Emile Hirsch and Brian Cox, is an eerie psychological thriller about father-and-son coroners who examine "Jane Doe," an apparent homicide victim with no cause of death. 
Sing
Animated films are just as much for adults as they are for kids these days, and Sing is no exception. The film tells the story of a koala impresario and a true lover of the arts, who organizes a singing competition in an attempt to save his struggling theater. Starring the Acadamy Award-winning voices of Reese Witherspoon, Matthew McConaughey and Jennifer Hudson, Sing is guaranteed fun for the whole family.
Office Christmas Party
Jennifer Aniston is back as the boss you never wanted, but kind of always did.  In hopes to impress a potential client, the branch manager throws what he believes will be a legendary "non-denominational holiday mixer" that inevitably gets completely out of control. Starring alongside Aniston is Jason Bateman, Olivia Munn, Kate McKinnon and T.J. Miller. Office Christmas Party is something every office crusader can appreciate.