Big Sean 'I Decided': New album release date, track list collaborators and more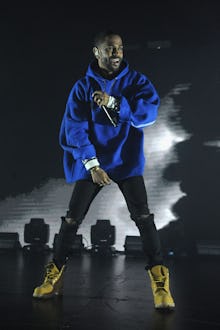 In 2016, Big Sean dove into the R&B realm with singer Jhené Aiko on the duo's collaborative debut Twenty88. Although they're promising a follow-up next year, Sean will first and foremost get back to his hip-hop roots in 2017.
The Detroit rapper announced Thursday that his fourth solo album, I Decided, will be released Friday, Feb. 3. His new music is available for preorder here. Sean already has the ball rolling before the new year with two new singles, "Bounce Back" and "Moves," which are currently available on iTunes. The songs also come with the early purchase of the new album. 
With the mainstream success of 2015's Dark Sky Paradise, Sean showed he's a consistent hitmaker. The project spawned a few successful singles, including "Blessings" featuring Drake and the triple-platinum "I Don't Fuck With You" featuring E-40. With I Decided, the Don will be looking to make his mark in what's shaping up to be a competitive 2017, a year already expecting new music from Drake and ScHoolboy Q.
Cover
The album cover, filled with green, blue and pink hues, was released with no specific explanation. It shows what appears to be two images of Big Sean standing in mirror-image driveways.
Tracklist Collaborators
We're still awaiting on an official track list, but two singles so far provide a preview of where Sean is going with his sound this time around. "Moves" brings more of the quick-hitting trap sound from Atlanta-based production duo 808 Mafia, a pairing of beatmakers Southside and Lex Luger. 
Sean continues on the trap wave with "Bounce Back," produced by Metro Boomin, who had a good run from 2015 into 2016 with several spots on Kanye West's The Life of Pablo and Drake and Future's What a Time to Be Alive. "Bounce Back. Story of the Underdog turning to the Wolf! Story of my life. U can bounce back from anything," Sean wrote in a tweet about the song on Monday. 
Sean also released two other tracks this year that haven't been placed on the final track list. One is "Living Single." He's joined by his Midwest brothers Chance the Rapper and Jeremih on the nostalgic boom bap song on the ups and downs of singledom. Another, "No More Interviews" is Sean clearing air about his past relationships.
There are still 12 more slots to fill on I Decided, and it'll be interesting to see how Sean will complete the record in the weeks leading up to his fourth solo album release. Until then, you can preorder I Decided on iTunes and pre-save on Spotify right now.