5 breakout moments from Vladimir Putin's press conference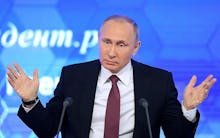 On Friday, Russian President Vladimir Putin held his annual press conference, this one lasting nearly four hours. In addition to answering inquiries about Russia's domestic affairs, Putin fielded several questions regarding the United States' presidential election, his relationship with President-elect Donald Trump and Russia's alleged role in helping him win the presidency.
Here's what Putin had to say on these matters and more, according to the Telegraph's live blog:
Putin wasn't surprised by Trump's call to beef up nuclear arms.
Trump rocked foreign relations when he called for the U.S. to "greatly strengthen and expand its nuclear capability" in a Thursday tweet. 
The call to action came just after Putin issued a similar statement, saying at a defense ministry meeting earlier that day, "We need to strengthen the strategic nuclear forces, for that we should develop missiles capable of penetrating any current and prospective missile defense systems."
During Friday's marathon press conference, Putin said he found Trump's rhetoric unsurprising. 
"No one disputes that the U.S. armed forces are the most powerful in the world," Putin said. He added that if Trump's political grandstanding was an attempt to start an arms race, it wouldn't work. "If anyone is unleashing an arms race it's not us ... We will never spend resources on an arms race that we can't afford."
Putin's message seemed to only inspire Trump to make clear his challenge to Russia, telling Morning Joe's anchors on Friday, "Let it be an arms race — we will outmatch them at every pass." 
He dismissed allegations that Russia hacked the presidential election.
Putin denied accusations, stemming most recently from mid-December CIA reports, that Russia hacked the Democratic National Committee's servers in order to sway the election in Trump's favor.
Nonetheless, he commended the supposedly unidentified hackers who orchestrated hack.
"They showed how the Democrats manipulated public opinion," he said, adding that the exposed emails revealed the way the Democratic party allegedly conspired to prevent Vermont Sen. Bernie Sanders from clinching the presidential nomination. 
According to the Telegraph, Putin praised the hackers for uncovering "the truth" and advised Democrats to "learn how to lose gracefully."
He maintained his relationship with Trump shouldn't raise any red flags. 
Throughout his campaign, Trump's relationship with Putin has been, well, fraught.
The two have certainly exchanged more than their fair share of pleasantries, with the Russian president calling Trump "a bright and talented person without any doubt" as well as "an outstanding and talented personality" in December 2015. At the time, Putin identified Trump as the clear frontrunner among the Republican candidates.
Trump later returned the praise, saying he was honored to receive a compliment from someone "so highly respected within his own country and beyond." 
It's comments like these, along with reports of a Russian hack, that have made many people suspicious of Trump and Putin's apparent close ties. On Friday, though, Putin assured it was nothing to worry about.
"We want [a] businesslike, constructive relationship with the United States," Putin said. 
He went on to commend Trump on "uniting" a country he claims President Barack Obama "divided," stating that "things cannot get worse" between Russia and the U.S.
Putin took credit for evacuating Aleppo. 
Aleppo fell to the Syrian government last week after a battle against the rebel troops that left the city decimated and hundreds of thousands dead — largely due to Russian airstrikes and pro-Bashar Assad soldiers who have indiscriminately killed civilians. 
Following the Syrian government's victory, troops attempted to orchestrate an evacuation from eastern Aleppo, which Putin says Russia had a critical role in facilitating.
"The president of Turkey and the leaders of Iran [also] played a huge role in this [managing the situation around Aleppo]," Putin said. "I don't know if this will sound immodest, but without our participation, it would have been impossible."
He denied the World Anti-Doping Agency's reports of Russian performance enhancing drug use.
Though Putin said Russia would cooperate with officials investigating the alleged state-sponsored doping scandal which resulted in more than 68 Russian athletes being banned from the 2016 Olympics, he said there was no truth to the accusations, suggesting that the scandal had been politicized.
"Undoubtedly there is a certain political element in all these issues," he said on Friday. "Sport should be cleansed, along with culture, of any sort of politics. Sport and culture are things that should unite people and not divide them."
He claimed the scandal's whistleblower had been encouraged by "someone abroad."