'GTA 5 Online' Juggernaut suit: Festive Surprise 2016 update brings Christmas mayhem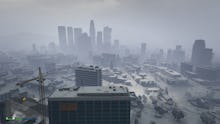 Snow has arrived in Los Santos — and with it, the annual holiday celebration in GTA 5 Online called the Festive Surprise. This year, that means a special Juggernaut suit along with the requisite snowball fights.
As always, the Festive Surprise includes a variety of holiday cheer for GTA 5 Online players to enjoy. A new multiplayer mode, hazardous driving conditions, lethal snowballs and plenty of new goodies to buy will help GTA 5 Online players celebrate good will toward men as they kill each other.
GTA 5 Online: Juggernaut suit mode offers bonus cash and respect
The new player-versus-player adversary mode added to GTA Online as part of Festive Surprise 2016 is called Juggernaut. Each team has one heavily armed and armored player strapped into a Juggernaut suit. The name of the game is to kill the enemy's Juggernaut while protecting your own.
Attacking a Juggernaut suit head-on is a bad idea. Each team has to protect its Juggernaut's flanks to prevent the other team from circling around and attacking from behind, where the suit's armor is weak. Hold the line, protect your Juggernaut and earn double GTA$ and Reputation points through Jan. 1.
You can also continue to earn double money and respect in Turf Wars adversary mode through today.
GTA 5 Online Festive Surprise 2016 brings all the presents
You'll want to look your best while driving around the city looking for winter fun, so Rockstar Games has added new clothing options as part of the Festive Surprise — including a new smoking jacket and pajamas you unlock just by logging into the game until Jan. 2. You can also get all the old Santa outfits and accessories for free if you visit a clothing store through Jan. 9.
Additionally, you can get your hands on a Fireworks Launcher if you've never played with one before, or restock your fireworks arsenal if this isn't your first GTA Online Christmas holiday. 
There's a photo-taking contest that can earn you a million GTA$, new supercars to enjoy and discounts on ammo, vehicles and weapons. Check out the full patch notes on the Rockstar blog for all the fine details about Festive Surprise 2016!
More GTA 5 and GTA Online news, tips and tricks
Check out Mic's guide on how to make money fast in GTA Online, all the best cheat codes for GTA 5 and how to make money with the Import/Export update.