When will your phone get Android Nougat? What to expect for Samsung, Nexus and Pixel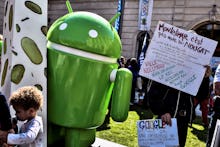 Before all Android devices could get updated to the latest operating system, Android Nougat 7.0, Google followed up the OS with a new version: Android 7.1.1. The updated version of Nougat, which was announced on Dec. 5, brings "many of the cool features of Pixel to everyone," according to Google.
Android Nougat, the seventh version of the Android operating system, came with several key updates including 72 new emojis, quick-switch features allowing a more streamlined way to move between apps, a multi-window view feature and a smarter battery. With Android 7.1.1, new features include new emojis promoting gender equality, a new camera app and a new Image Keyboard feature to send stickers, GIFs and other content on apps like Google Allo, Google Messenger and Hangouts. It also features app shortcuts.
"Launch actions on your favorite apps, such as Twitter or Google Maps, by simply long pressing the app icon," Google wrote about app shortcuts. "Jump directly into an existing conversation on Google Messenger or start an entirely new one — all straight from the app icon."
When will your device get a Nougat update? It depends on the handset, carrier and country.
Nexus is first to receive Android 7.1.1 update.
At the time of the Android 7.1.1 announcement, Google revealed that certain devices would be immediately receiving the updated version of Android Nougat via an over-the-air software update. These smartphones include Nexus 6, Nexus 5X, Nexus 6P, Nexus 9, Pixel, Pixel XL, Nexus Player, Pixel C and General Mobile 4G (Android One).
Samsung is going to directly update to Android 7.1.1 in some markets
Samsung will reportedly skip the Android 7.0 update for two models — the Galaxy S7 and the S7 edge — and update directly to Android 7.1.1. But this may not happen in every country, as a report from GSM Arena, citing a Vodafone representative from Australia, says Samsung will roll out Android 7.0 in the country for the Galaxy S7 and S7 edge. Those enrolled in Samsung's Galaxy Beta Program can receive the update as well, as Google noted that "any devices enrolled in the Android Beta Program will also receive this final version." 
Motorola has released the 15 devices that will receive Android Nougat
The specifics of Motorola's Android Nougat update will vary by country and carrier, but the company announced in October which devices would be receiving the Android 7.0 Nougat update. The list includes: Moto G (4th Gen), Moto G Plus (4th Gen), Moto G Play (4th Gen), Moto X Pure Edition (3rd Gen), Moto X Style, Moto X Play, Moto X Force, Droid Turbo 2, Droid Maxx 2, Moto Z, Moto Z Droid, Moto Z Force Droid, Moto Z Play, Moto Z Play Droid and Nexus 6. The Moto Z reportedly received the update on Tuesday.
LG has rolled out an Android update in parts of Asia and the Americas
LG announced in November that the Android 7.0 Nougat update is available for G5 users in South Korea and would be followed by a release in the Americas and Asia. This week, G5 owners in Canada also received the Android 7.0 Nougat update, Android Authority reports.