'Clash of Clans' Santa's Surprise: Holiday update brings new events and more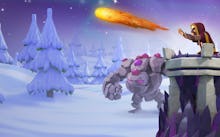 It's a veritable winter wonderland in the world of gaming right now, as the holiday season is bringing players plenty of gifts. Free demos, better representation and tons of updates to popular games are all making headlines this week. So it's no surprise that Clash of Clans is getting in on the action with a winter 2016 update of its own.
The popular mobile game is joining in on the fun with a litany of gameplay tweaks. Here's everything that's new in Clash of Clans for winter 2016.
Clash of Clans: Santa's Surprise returns
As part of its festive updates, Clash of Clans is bringing back Santa's Surprise. This is a special spell in the game which causes Kris Kringle to fly across the map while dropping explosive presents.
Take a closer look at the returning Christmas update in the video below.
Clash of Clans Christmas holiday update: New events
The biggest thing added in the winter update is a mysterious new Events tab in the game's menu. The developers are being coy about what kind of events will eventually show up here, but they are "immensely excited to start featuring in-game special events on a regular basis."
Whether these events are tied to specific holidays or just totally random is unclear. Hopefully, developer Supercell pushes out enough special events to keep players coming back for more.
Clash of Clans Christmas holiday update: Tons of balance changes
The key gameplay changes in this patch concern Town Hall 11 attacks. Attack levels for units such as Barbarian King and Archer Queen have been "bolstered and distinguished" in order to separate Town Hall 11 from Town Hall 10.
The Witch unit also had her damage and hit points increased, while the spell radius for Poison has been slightly increased. Meanwhile, Hog Rider and Golem have had their upgrade costs discounted. Finally, Clan Mail's cooldown has been reduced from 12 hours to just one hour.
Clash of Clans Christmas holiday update: More to come?
Supercell clearly has more festive updates and gifts on the way. So keep an eye out for any more Christmas updates to Clash of Clans.