When will 'Sense8' season 2 premiere on Netflix?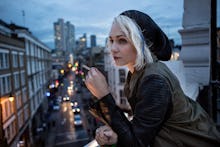 With the Sense8 two-hour Christmas special available to stream on Netflix now, it's time to start thinking ahead. 
The 12-episode-long first season of Sense8, created by the Wachowski sisters, premiered on Netflix in June 2015. A year later there were no new episodes, but the Christmas special was released on Friday. Given the amount of time its been since a full season, and now that there's a one-off holiday tease episode, you might be  when we'll get more of Sense8.
The future of Sense8
Netflix will release the second season of Sense8 on May 5. Unlike the first season, season two will consist of 10 episodes. 
Season one of Sense8 introduced eight very different individuals from all around the world — Kenya, Germany, South Korea — who learn that they are "sensates," beings who are connected with one another and can communicate psychically. The series sees them navigating this profound relationship and investigating both the root and extent of its power. 
The synopsis for season two reads:
Capheus (Toby Onwumere), Kala (Tina Desai), Lito (Miguel Angel Silvestre), Nomi (Jamie Clayton), Riley (Tuppence Middleton) , Sun (Donna Bae), Will (Brian J. Wright) and Wolfgang (Max Riemelt) come together both physically and mentally, plunged into the middle of each other's tragedies and triumphs. On the run from Whispers (Terrence Mann), and forced to question their very identity, it's a matter of survival as the Sensates must find a way to live with, understand and protect one another against all odds.
Sense8 season two details
In season one of Sense8, British actor Aml Ameen played Capheus, a man living in Nairobi, Kenya, who is desperate to make money so he can pay for his mother's AIDS medication. While the character of Capheus will still be a regular in season two, the role will be played by Toby Onwumere. Ameen reportedly left the series after having issues with co-creator and executive producer Lana Wachowski.
Lilly Wachowksi, Lana's sister, is also not working on this season. Still, it looks like the series won't be any less wild than it was when it first debuted.
"There's more sex, more violence, more of everything! We're pushing the boundaries," Max Riemelt, who plays German criminal Wolfgang Bogdanow, told Buzzfeed while on the set on season two in San Francisco.